DISCLAIMER: This report is brought to you by an ecstatic, giddy and probably slightly insufferable Nottingham captain (a.k.a Jon Spinks) - my first draft simply said 'NOTTS, NOTTS, NOTTS!' Hopefully it's now a little more balanced, but you'll probably not hear the end of this until I get our trophy from wherever Duncan Stahl (Middlesex, MIA) is hiding it on the continent...
A massive thanks to the behind the scenes work of James Pope in setting everything up before the event, and the great work of George Roberts and Helen Ford making sure the tournament ran smoothly.
Division One
A six-team event saw the first and second seeds, Kent and Nottingham, awarded first round byes, whilst the remaining teams fought for a place in the semi-finals. In the top half of the draw the exuberant local Staffordshire 1s took on Oxfordshire 2s – the first match up of the day between two of the most active Racketlon areas, whose lead-up to the tournament even involved a friendly Twitter war! Staffordshire were able to come out the early winners however, booking their place against Kent in the semi-finals. In the bottom half of the draw Oxfordshire 1s took on Lincolnshire 1s (who impressively fielded a team from just within a single school of teachers and students), but it was the greater experience of Oxfordshire that won out.
The two semi-finals were contrasting affairs, with Kent taking a convincing win over Staffordshire – with their top names showing their big game experience where it counted to see off the lively challenge of George Roberts and co. The match between Nottingham and Oxfordshire was in fact the closest team match of the entire day, with the end result being decided by just 5 points! It was a yo-yo match, with Nottinghamshire opening up a 50-point lead after table tennis (maximum points in each sport is 90 points! - Ed), yet still being down in the match going into squash due to the dominance of the Oxfordshire badminton players. Nottinghamshire then edged ahead in the squash to give themselves a slender lead, and despite the efforts of Oxfordshire on the tennis courts they could not quite edge over the line.
This left it a battle of the top seeded teams, with Kent taking on Nottinghamshire for the title. Once again Nottinghamshire showed their strength at table tennis, taking several decisive wins with both sides featuring some of the better table tennis players in UK Racketlon – the Notts players were very happy with their initial 37-point lead heading into badminton. On the badminton courts Kent were able to fight right back however, clawing back all their deficit by dropping only one badminton set in a very tight men's doubles encounter which left Kent 4 points up at halfway heading to squash.
In comparison to the first two sports the squash was a much more evenly matched affair, with a number of matches being decided by very narrow margins, including a thrilling mixed squash game in which the Kent and Notts captains went head to head, with Ray Jordan looking to overturn a large deficit at halfway with some far superior squash – but at game point down Jon Spinks fluked out to bring things level before proceeding to forget all the basic principles of squash and just slap the ball as hard as he could in the hope of a nick, coming up trumps both times to grab a win from the jaws of defeat.
These results meant Notts held an 11-point lead before tennis, but with both sides boasting some experienced tennis players it was still anyone's match. After the doubles games Kent had clawed back one point, leaving them needing to recover another 10 to take the lead. The next two matches however were to prove the decisive point in the match however, with Carol Whittington pulling out a fantastic tennis performance to extend the Notts lead, while Will Coley held on against Ray to take a crucial narrow win. This left Notts captain Jon Spinks needing 11 points against local clubmate and hitting partner Jack Bishop to take the win (with Mark Green desperately hoping he wouldn't be called upon to play any tennis in the worsening weather) – but thankfully for the team in green their captain was able to keep his cool and secure a 278-252 win.
There was emotion, drama, a mass team huddle with Spinks lifted on a crowd of shoulders to the backing of 'We are the Champions' and rapturous applause...or perhaps there might have been had we not had not had an undignified shuffle to the doors having overstepped our welcome by a couple of minutes! However all in all nothing could really dampen the spirits (even the last ditch rain) of the conquering Nottinghamshire side for their first national title.
Final Scores
MD, Bispham/Bishop vs Green/Coley – 9-15, 14-16, 10-15, 15-10 (-8)
XD, Crossman/Jordan vs Whittington/Spinks – 8-15, 15-4, 14-16, 11-15 (-2)
MS1, Ray Jordan vs Will Coley – 15-8, 15-9, 11-15, 13-15 (+7)
WS1, Georgie Crossman vs Carol Whittington – 4-15, 15-4, 6-15, 3-15 (-21)
MS2, Jack Bishop vs Jon Spinks – 5-15, 15-10, 15-8, 5-11 (-4)
MS3, James Langworthy vs Mark Green – 4-15, 15-5, 15-12 (+2)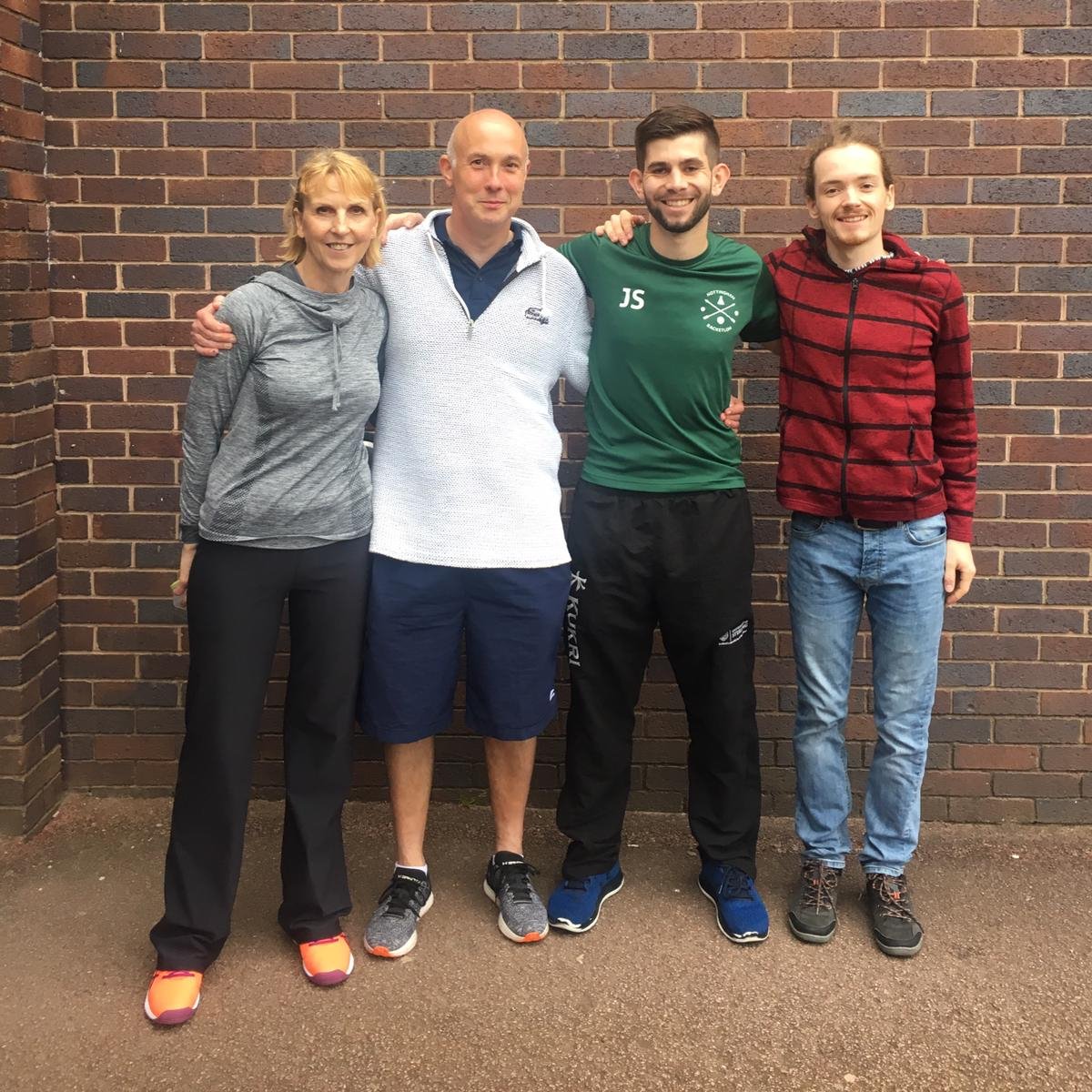 Champions from Nottinghamshire (l-r): Carol Whittington, Mark Green, Jon Spinks (c), Will Coley
 
Division Two
The second division of the event saw a round robin group of four, comprised of the irrepressible Staffordshire 2s and 3s, along with the Lincolnshire 2s and the youth of Yorkshire.

Yorkshire started off their campaign against the local Staffordshire 3s, who despite their teams inexperience at major tournaments have been in rigorous training under the guidance of Staffs Supremo George Roberts for the past year. They were able to push Yorkshire close in large parts of the game, but ultimately the youth and promise shown by this team (with 3 players under 16) was too much. The other match was a particularly interesting affair, with some very high quality table tennis on display - in the end it was Staffordshire 2s who were able to outlast their opponents in Lincolnshire 2s.

Lincolnshire 2s bounced straight back from this agonising loss however to play Yorkshire and in another match decided by narrow margins were able to hold on for a crucial victory keeping faint title hopes alive. Meanwhile however Staffordshire 2s established a healthy lead at the top of the pack with a comfortable win over their county teammates.

In the final round of matches Lincolnshire 2s also eased to victory against Staffordshire 3s, meaning the title lay completely in the hands of the Staffordshire 2s - all they required was a win against Yorkshire to claim the trophy. Yorkshire battled all the way through, the juniors truly embodying the spirit of every point counts, but in the end they didn't have enough to triumph over their more experienced rivals - meaning Staffordshire 2s successfully claimed the Division Two title, ahead of Lincolnshire 2s in second.
Jon Spinks, Captain, Nottinghamshire Racketlon