The Staffordshire Open kicked off the 2019 Weekend Festival of Racketlon in some style as Ray Jordan claimed his first title in nearly two years while Susie Dilloway claimed a maiden Women's A title, a pair of results that reflected almost déjà vu from the Northumberland Open the previous weekend. At this, the third round of the 2019 Super Series there were also wins for: Stuart Preston (Men's B), Robert Rhodes (Men's C), Jack Taylor (Men's D), while Freddie Whitfield claimed the Junior title. All the results  from a great day at the lovely Keele University Sport Centre can be found here. 
Jordan Rises Back to the Top
Despite being one of the ever-present forces of the Men's A, Ray Jordan had entered a lean patch since he last tour victory, at the Richard Lawrence Open in November 2017. However, the second seed came into the Staffordshire Open with confidence, having seen a favourable draw as the second seed. Ray would open up against Jon Spinks, while the winner of that match would face the victor of Stuart Rank and Jonathan Healey. The top half of the draw looked tougher, with a pair of Kent regulars facing some less regular but certainly dangerous players, with top seed Will Coley facing James Langworthy and Dave Edgar facing Jack Bishop. Will and Ray cruised into their semi-finals, requiring the bare minimum of tennis, and were joined by Dave and Stuart respectively, also in relatively calm circumstances. In the semi-finals and Ray made short work of Stuart, the badminton set going 22-20 to the man from Kent in a dominant performance. The second semi-final featured top seed Will against Dave. What followed was a match that shows the core principle of Racketlon, that it is points that count. Will claimed three of the four sports, winning TT 21-13, Squash 21-16 and Tennis 21-15. However, a stunning badminton performance from Dave, saw him win that sport 21-1, a win so dominant that Will was unable to claw back those points across the other three sports, going down by a solitary point.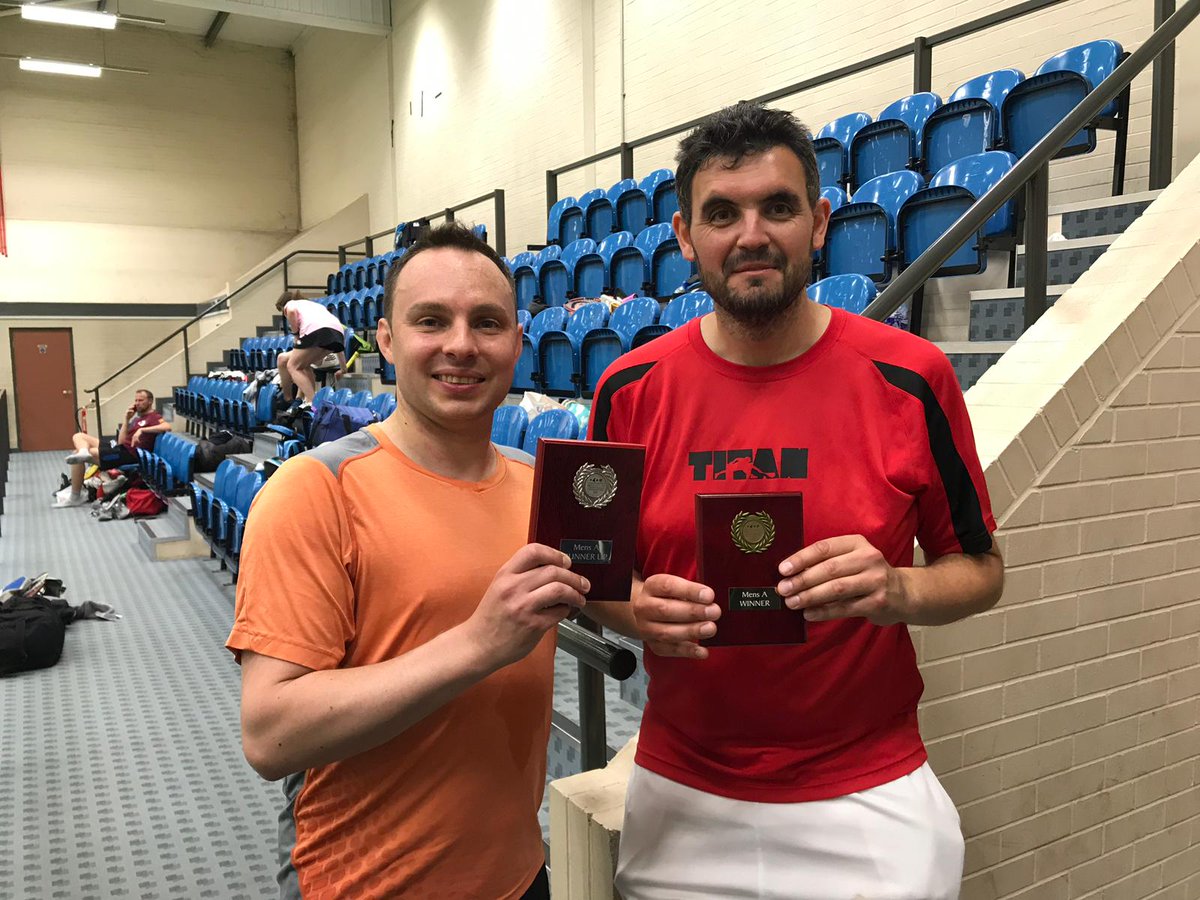 Dave Edgar (l) with Ray Jordan (r)

Into the final and Ray's TT dominance provided an excellent start, however, despite going down 21-5 to trail by 16 points after the TT, Dave came back through the Badminton and Squash, winning both to trail by 3 points into the tennis. However, in hot, lively conditions on bouncy courts, Ray brought his experience to the fore. Using a solid and safe kick serve he utilised his height advantage over his opponent to give Dave less chance to get easy balls into play. Ray needed 19 and while it was tight at the start, Ray grew into the tennis and bypassed the chance for any nerves about claiming the win and his tenth UK Tour title.

Dilloway Goes All In For Victory
Having caught the Racketlon bug in a big way this year, Susie Dilloway arrived in Staffordshire as top seed in a Women's A event for the first time. She started in the best possible way, dominating both games in her three woman box league winning 7 out of the 8 sports as she saw off Georgina Crossman and Jo Whitfield. In the second box league, second seed Claudia Vincent faced Annya Sekula and Kelly Sadler. With Claudia and Annya seeing off Kelly, it became a shootout between the youngster and the Manchester based Pole. Ultimately, Annya came out on top by 13 points to set up a final against Susie. In the final, despite a narrow badminton victory for Annya, it was Susie who dominated a strong TT and excellent Squash performance meant she claimed her first Women's A title without needing to the visit the tennis court. Claudia saw off the challenge of Jo to claim third place.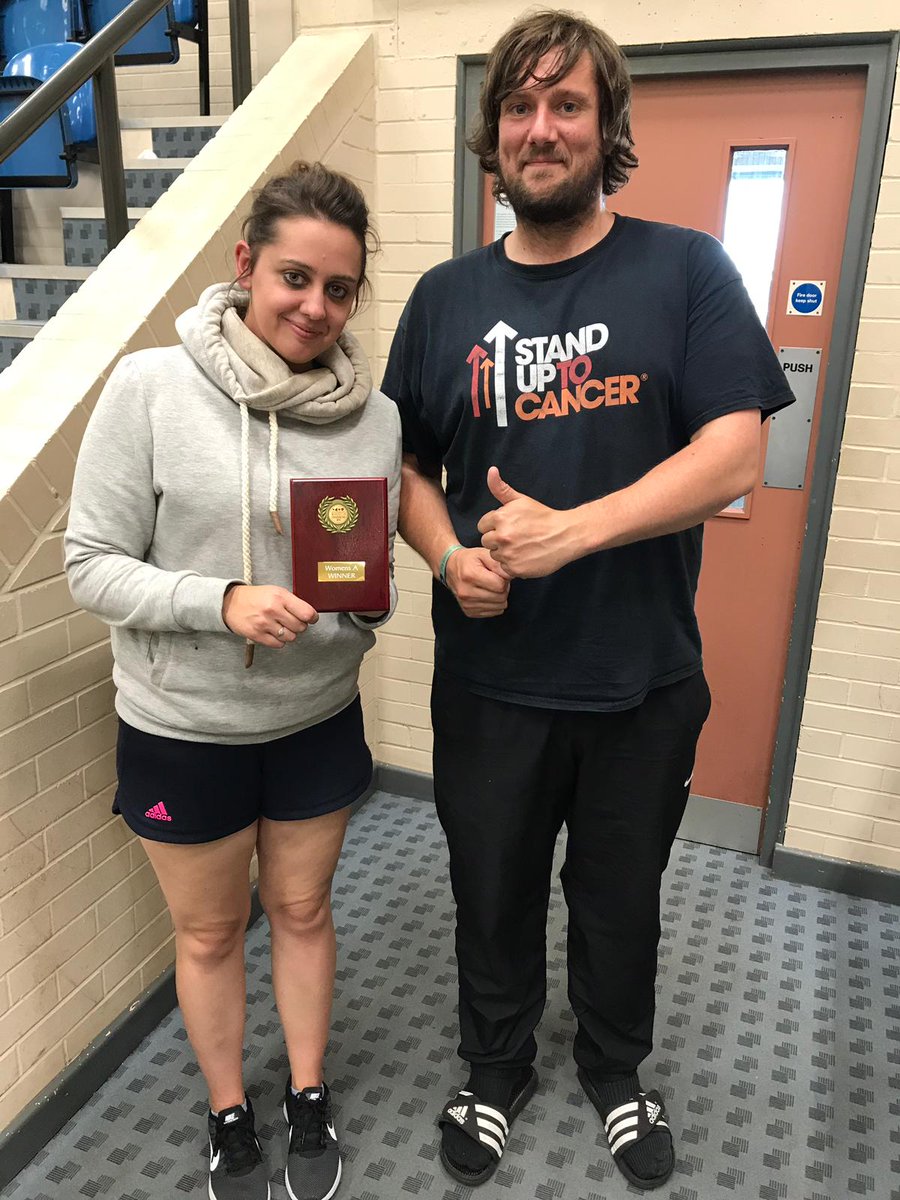 Debut Win for Susie

Yorkshire Juniors Find the I Before Team
In Sunday's County Championships, Alexandra Ogram, Cameron Leighton and Freddie Whitfield will join forces to represent Yorkshire, however first comes individual glory at the Staffordshire Open. Having each won their respective box league in this nine player junior event, they faced each other to determine who would win. While Alexandra provided her soon-to-be colleagues with a squash education, Freddie and Cameron were too strong for her in the TT and Badminton, leaving those two to fight it out in the final. A hard-working final ensued, but it was Freddie who was able to come out on top. Fortunately for Team Yorkshire, they finished all smiles.

All Rhodes Lead to a Staffs First
In the Men's C, local hopeful Robert Rhodes reached the final after overcoming the top seed Ryan Bezer in his opening match and then Jon Colridge in the semi-final. He would faced Shaun Hall who overcame Stuart Vincent in his semi-final. Into the final and the weight of history was upon Robert's shoulders. No man from Staffordshire had ever won a Racketlon event in Staffordshire before (Thanks to George Roberts for this specific nugget of historical information – Ed), could Robert handle the pressure? After exchanging the TT and Badminton with each other, Robert took control in the squash and then kept his nerves in check to produce a steady tennis display for a 10 point victory. Jon defeated Stuart for third place.

It was a pair of three player box leagues for the Men's D, with Jack Taylor and Jonathan Keough emerging as the victors in each box to contest the final. After Jonathan dominated the TT, Jack struck back with an inch perfect Badminton set. With the players only separated by a couple of points a brace of tight sets followed in the Squash and Tennis, but Jack had enough to secure the title. Greg Eden defeated Ray Ryan to claim third place.

With glorious sunshine once again blazing down on Keele it was a great day. Our thanks to John Belfield International who provided gift bags for all finalists and also to Complete ICT Solutions who provided Rackets for our Junior players. Both organisations have been long standing supporters of Racketlon in Staffordshire, and our thanks to both for their continuing support. Also thanks to the friendly staff at the Keele University Sports Centre, who once again laid on a brilliant set up for us to have a fun tournament in.  Finally, thanks as ever to George Roberts for running the event in his usual effervescent style!