Alex Du Noyer won his first Men's A title in nearly 4 years while for Kathryn Schutterlin claimed her first ever Women's A title at the 2019 Northumberland Open.  For all the details, here is Tournament Director Jon Spinks:
  
This weekend the UK Tour returned once more to North East England, hosted at the welcoming Northumberland Club in Newcastle. A brilliant venue in an under-represented area for the sport, we're looking forward to coming back next year! The day's play saw plenty of Racketlon played, with all categories as round robins meaning there were many long, full matches.  All results can be found here.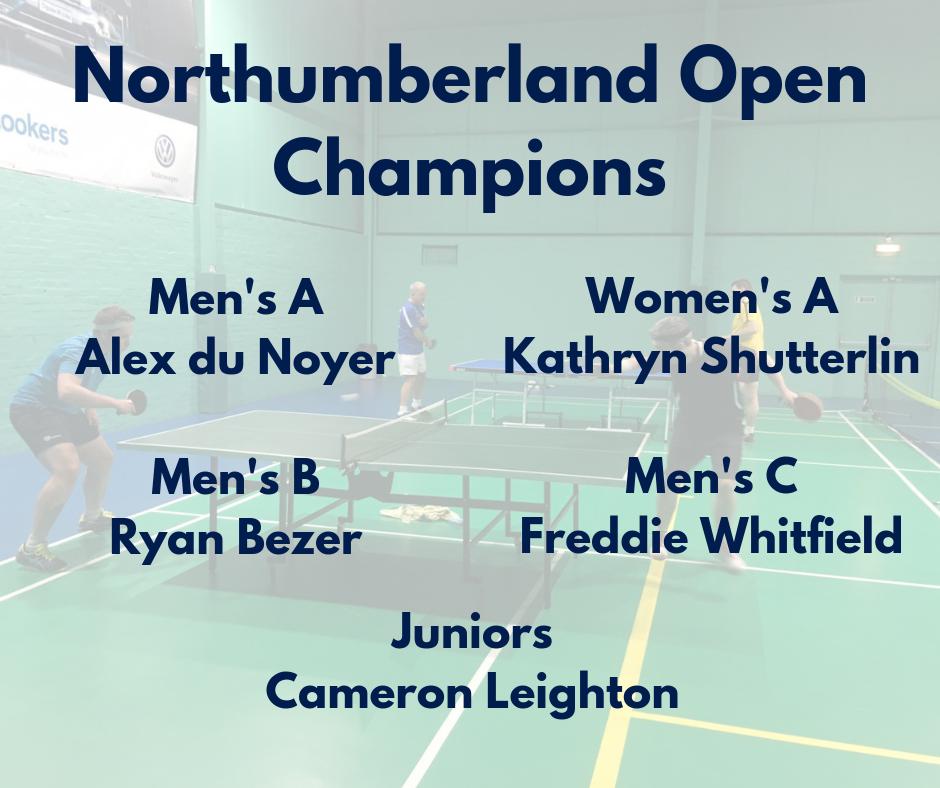 Men's A
The Men's A (in this tournament director's perhaps slightly biased opinion, and because by playing in it he naturally saw most of the matches) was one of the tightest, most drama-filled events of the day. With the entries trimmed to four after the unfortunate injury-enforced withdrawal of Will Gregson, the draw continued with the Paddington Sports Club trio of Jack Bishop, Alex Du Noyer and Jon Spinks, along with Finlay Nelson down from Scotland. Playing in his first A grade Finlay showed great promise for the future, winning all his badminton and squash matches, but unfortunately did not have enough to take a win over the more experienced London players.
Perhaps still half-asleep for their early morning match, Jack and Jon managed to make a large error – only remembering that they were playing to 15 and not 21 after the first two sports. Unluckily for Jon this wiped out 11 points from his lead, as instead of a 21-12, 21-12 lead it was reduced to a 15-12, 15-12 lead! Jack then dominated the squash before edging a nervy tennis to take the win by 6.
Bishop then took on Du Noyer, putting in a great combined effort over the first three sports to be level going into tennis – but Du Noyer showed his class to take a 15-9, 15-9, 4-15, 15-11 (+5) win.
The final round of matches saw Jon take on Alex in the match of the day. In the table tennis Jon recovered from being down at the turn to secure a win, before capping off his day's excellent badminton with a crucial double figures score. Jon then came back from quite far behind once again in the squash to lose out on deuce and keep himself in the game. At 4 points ahead Alex needed 12 to win, and at 11-10 up things looked like they were over – until Jon once again showed his grit to reel off 5 straight points and force a deciding gumi-arm point. In the end however Alex outlasted the challenge of Jon, confirming his place in first at the head of PSC trio. This was also Alex's first Racketlon singles title since the 2015 Hertfordshire Open!

Women's A
The women's saw two grades merged for the competition, and in the end it was pre-tournament favourite Kathryn Schutterlin who was able to show why she has moved up to 4th in the national rankings with an assured performance to take her first UK title. Her deciding match was played against the quickly improving Susie Dilloway, who got off to flying start with a big win in table tennis. Kathryn however was able to hit back in the badminton, taking a strong win against Susie usual second sport. From here it was just a little bit too much of a challenge for Susie, with Kathryn taking the win 3-21, 21-11, 21-9, 21-4 (+21).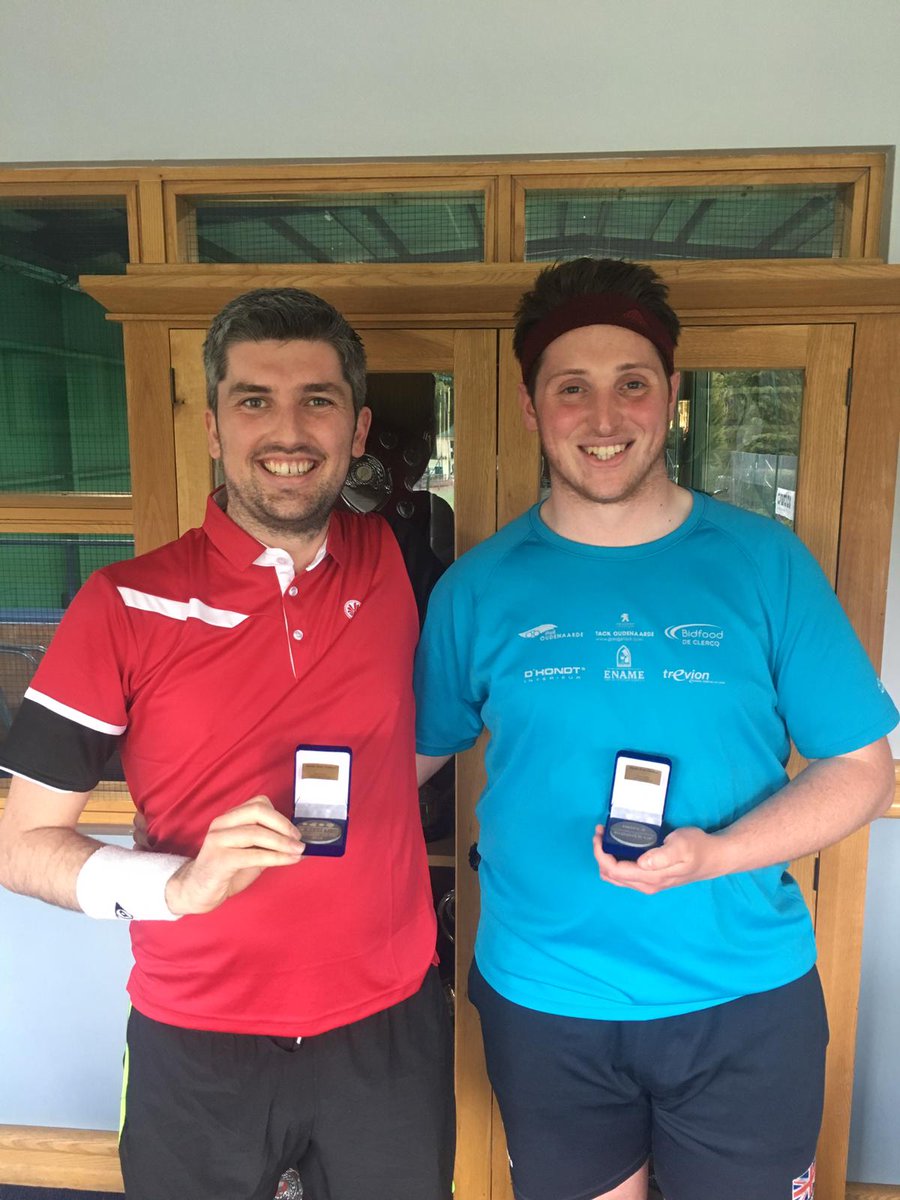 Men's A Winner Alex (l) and Runner Up Jack (r)

Juniors
The junior category saw tour regular Cameron Leighton start the day as a strong favourite, and he was able to back up this top billing with three dominant wins, only dropping two sets for the day. The other three can definitely take a lot of hope from their performances, each showing a lot of promise, with two playing their first ever Racketlon competitions. One of these included the eventual runner-up, club local George Gray.

Men's B
The Men's B saw a group of four regulars from across the country make the trip North, but in the end it was the youth of Ryan Bezer who managed to see off his more experienced opposition, with a highlight being his much improved table tennis and reliably strong tennis forming the backbone of his performance. Ryan has been showing great promise and is rocketing up the categories at a rate of knots!  Lee Gregson was able to provide the sternest challenge, losing a narrow game by 6 points, but this wasn't enough to secure second as he was then beaten by Leigh Ware by a single point.

Men's C
Despite some early troubles with injuries and dropouts just before the event, the Men's C switched to a group of 5 which meant a long day for the players. This category was perhaps one of the closest of all the day's events, with the eventual champion winning no match by more than 8 points. All the matches were closely contested, but in the end the title was decided by the final match of the day, between two local club juniors Freddie Whitfield and Sahil Pabary. Playing tennis together each week meant the two knew each others games inside out, but Freddie was able to call across his greater Racketlon experience to win 15-12, 13-15, 15-12, 15-13 (+6).


Jon Spinks