This weekend saw the inaugural Cotswolds Open held at Cleeve School, at the foothills of the Cotswolds just outside Cheltenham. Featuring plenty of upsets, big wins, gumi arms and fun the day was a roaring success in its first outing, and hopefully we will be back once more in 2020.  All the results from the day can be found here. 

Men's A
Coming straight off a maiden British Championships title several weeks previously, there was no doubt that Dan Busby was the man to beat – but against him there were arrayed a number eager players ready to try and take that crown away from him. In one semi-final Josh Kashdan, returning to Racketlon after several years out, comfortably closed out Jon Spinks – but the real story of the tournament was happening on the next court over with reigning British champion Dan Busby taking on young Luke Griffiths.

Dan had of course beaten elder brother Leon on his run to the British title several weeks earlier, so Luke was out to reclaim some family pride. A tight table tennis set started the game, with Luke taking a slender lead 21-19 before extending that lead with a 21-13 badminton victory. The squash was a one-sided affair, with Luke only gaining a single point – but in the end that single point was to prove decisive! Luke showed why he is a force to be reckoned with at such a young age by closing out the tennis 21-10, beating Dan by a single point.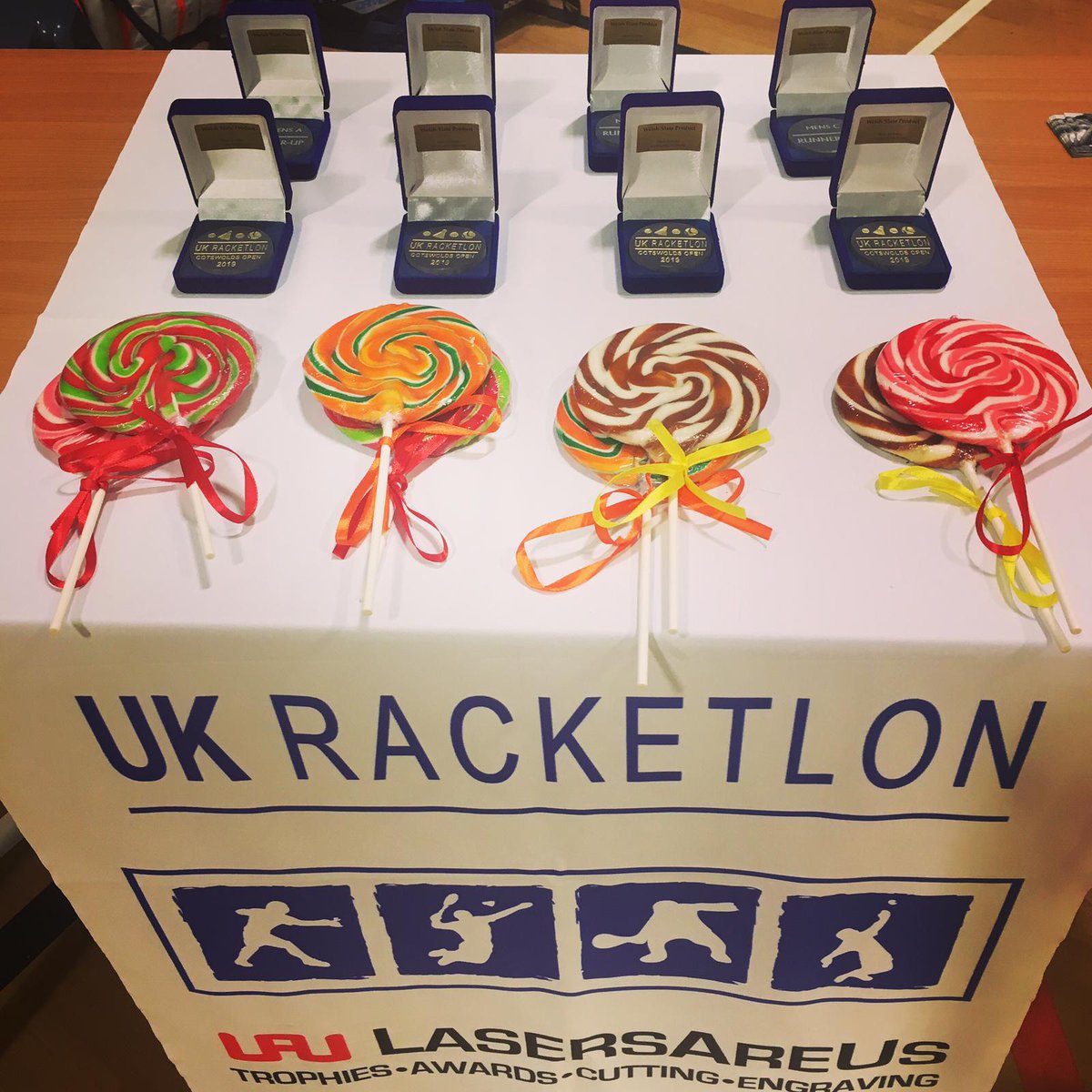 Given the impact of our younger players, age appropriate prizes in the Cotswolds!

After this loss Dan bounced back to narrowly see off the surprise challenge of Spinks to secure third, before Luke took on Josh for the title. Josh maintained his strong table tennis performances to take an early lead, but Luke showed his dominance on the badminton and squash courts to leave him needing 9 on the tennis court. Once again a great tennis performance saw Luke get the points he needed against one of the best tennis players on the UK Tour to claim his first ever tour title! There is no doubt that this will only be the first of many more to come, and sure to set up some intriguing matches in the future.

Women's
Not to be outdone, the Women's draw featured drama aplenty too – with the final won by the narrowest of margins. In Group A Matilda Parslow saw off the challenge of Susie Dilloway and newcomer Anne Corbett to make a ninth consecutive UK tour final (this may be a record, certainly James P is now scrabbling around to find out! - Ed). She was joined Oxford's Kathryn Schutterlin, whose strong badminton and tennis performances were vital to wins over Cherisse Lau and second seed Jo Shelley.

The final position playoff places are where things truly got interesting however, starting off with Susie edging out Cherisse 23-21 in a winner-takes-all final tennis set. The match for third saw UK Racketlon stalwart Jo Shelley take on first timer Anne Corbett – and what a match it was, being decided on a gumi arm point…except neither realised and handed in the sheet before being told the scores were level! They returned to the tennis court where Anne showed nerves of steel to win the match (for the second time) on her first Racketlon outing.
The final was contested between Matilda and Kathryn and was very much a 'two sports each' contest, with Matilda scoring strong wins in table tennis and squash, whilst Kathryn was on top for badminton and tennis – the question was who would sneak through on margins. With Matilda needing 11 points at tennis, and Kathryn leading 18-9 it was a truly 50/50 game, but in the end Matilda was able to call on her big game experience and grab a couple of vital points to claim victory and her second title of the year.

Men's B
A very welcome theme throughout the tournament was the great performances showed by our junior players, with young Luke Griffiths taking the Men's A title we were able to look down into the grade below to see who may be up for challenging him in future years, with the Men's B final contested by two juniors in Will Taylor and Angus Howard. Both showed why they have excelled on the UK Tour this year with assured victories in their first rounds, before meeting for the first time in the final. In the end it was the elder Will Taylor who was able to win through, but at only 13 Angus is sure to have many more chances to shine.

Men's C
The Men's C featured a big 16 draw for the day, meaning that if you wanted to win it was going to be a long tough day with 4 matches to contend with. Yet again juniors were leading the way, with Alex Martin joined in the semi-finals by three juniors under the age of 18. Alex saw of the challenge of Josh Audsley to face Thomas Andrews in the final – here Alex showed his strong improvement over the last 12 months to come away with an assured victory to claim his first title.
Report by Jon Spinks.  A big thanks from everyone at UK Racketlon to Jon for setting up this brand new event in a new area for the UK Tour, hopefully the first of many Cotswolds Opens!