History was made this past weekend as Hannah Boden made it a fabulous five-in-a-row in the Women's A, in the process becoming the most successful player British Championships history.  Whilst in the Men's A, it was sweet revenge for Dan Busby as he triumphed in a repeat of the 2016 final against Duncan Stahl to give him his first National Title (and his 22nd title on UK soil).  Dan & Hannah combined to claim the Mixed A Doubles, and Hannah hooked up with Izzy Bramhall to win the Women's Doubles and complete a hat-trick of British Championships "Triple Crowns" (singles, mixed and men's/women's doubles gold) for the young Yorkshire woman.  Additionally there were titles for: Leon & Luke Griffiths (Men's A Doubles), Stuart Rank (Men's B), Susie Dilloway (Women's B), Martyn Langston & Andy Stenson (Men's B Doubles), Chris Snelling & Jane Galsworthy (Mixed B Doubles), Angus Howard (Men's C), Nick Riddle & James Trueman (Men's C Doubles), Paul Lord (Men's D), Matthew Davidson (Boys U16s), Alexandra Ogram (Girls U21s), Ross Wilson (Boys U21s), Jeremy Krzystyniak (Men's O45s), Sarah Ball (Women's O45s) and Martyn Langston (Men's O55s).  Huge congratulations to all our winners on what was a fantastic event once again held at the truly sensational Parklangley Club in Beckenham.  All the results can be found here.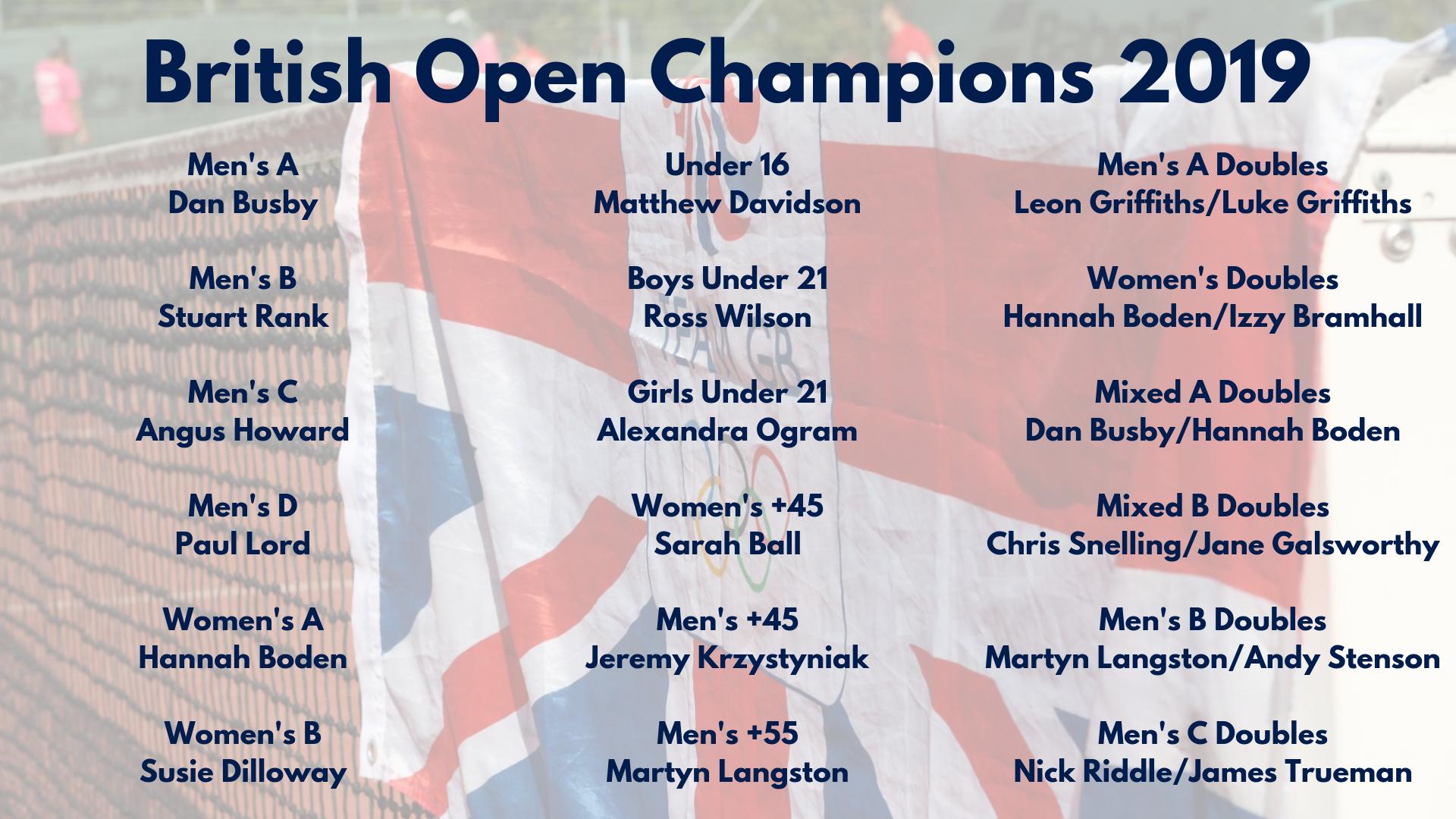 However, with seasoned scribes James Pope and Sam Barker AWOL from the event, it is left to our self-styled "Numbers Guy" and newly crowned National Champion, Dan Busby to provide the details on another brilliant event on the UK Tour (James has added some words here and there...).   

Busby Claims Missing Title
Unseeded, pre-tournament favourite Leon Griffiths annihilated third seed Luke Barnes in 1st round, whilst a rising star of the UK game, Ross Wilson upset the seedings by beating fourth seed Jack Bishop.  In the administrative battle, FIR President Duncan Stahl took on UK Racketlon Chairman and tournament director Ray Jordan, in a match which "got edgy", as it all came down to a winner takes all game of tennis.  Duncan had a really good start to the tennis, but Ray nearly caught up, just falling 4 points short, Duncan coming out 21-17! It was a more successful comeback for Jon Spinks, 7 points down into the squash vs Keith Lesser (12-21, 24-22), he was in a hole at 15-6 down on the squash court.  However, digging deep, he hauled himself back into contention with a 22-20 victory, snatched from the jaws of defeat.  He still needed to do the job on the tennis court, a 21-14 victory here sealing a memorable win for the Notts man by 2 points!  Away from these distractions, the top 2 seeds Dan Busby (vs Jordan Dainty) and Alex Du Noyer (vs another talented youngster, Matthew Davidson) came through with relative ease.  Will Coley (vs Peter Browning) and James Langworthy (vs Johnny Bispham) rounded out the quarter-final line up.  

Into the quarters, and they were all relatively comfortable, with the favourites, surviving seeds Dan and Alex along with Duncan and Leon making it into the semi-finals.  Leon in particular smashed Will and looked really good, barely conceding any points (21-6, 21-6, 21-8).  I (James here), asked Dan how he felt about the possibility of meeting unseeded Leon in the semi-finals.  Dan however refused to be drawn into any whinging, pointing out that if someone wanted to win this years National Title they would almost certainly have to beat Leon and to his mind it didn't matter whether this was a final or first round, he wanted the title and nothing else.  Therefore, he was well aware of what mattered when he began his semi-final against Leon.  Their match started with high quality TT, however, from 16-16 Leon pulled away to win 21-18. In the badminton and Dan knew he was in for a tough fight, but picking up a point here and there, he also ensured that Leon had to win point, giving nothing easy, Dan battled his way to a pleasing (he did write this – Ed) 11 points. The Squash was gruelling, lots of long rallies and scrambling to pick the ball up, but from 11-5 Busby pulled away to win 21-7, meaning a game of tennis.  A recent improvement in Dan's tennis has been his serving, including the big swinging leftie serve from the 'Ad court'.  Leon, knowing he was in a battle was possibly a bit too passive, and Dan had established a commanding 20-12 position.  Perhaps now it was Dan's turn to become a bit twitchy as it became 20-16 before an error handed the win to Busby, a first over Leon since 2016!  The second semi-final featured second seed Alex v Duncan, but it was over before tennis as Alex looked tired. Duncan prevailed 21-10, 19-21, 21-8, to set up a repeat of the 2016 British Championships final, when Duncan defeated Dan at the Surrey Sports Park.  

Dan started the final brilliantly, channelling his drive for this title, playing excellent TT once again. Busby was leading 11-5 at the turn, but Duncan started to find his feet in the match, playing a great 2nd half, turning 5-11 down into a 21-16 victory! First blood to Stahl, much like in 2016. Badminton, and the Stahl-train continued, despite a calf niggle Duncan was playing well and Busby was making the errors he hadn't in his semi-final.  Despite a late fightback from Dan, it was second blood to Duncan with a 21-17 win. Squash between Duncan and Dan has always been a tightly contested affair and early doors it was 7-6 to Duncan, but once again on a squash court, Dan found a stronger finish and 6-7 became 21-10, returning the favour from the TT and once again leaving their final as a winner-takes-all game of tennis. It was apparent from the start that Duncan was not going to let Dan dictate play with his (patent pending) brand of controlled lob forehands.  On the fast indoor courts of Parklangley, Duncan went for the serve-volley approach, getting to the net whenever he could.  However, the execution was off and the errors crept in.  That combined with more booming leftie serves and Dan raced into a lead he was never going to surrender.  Duncan stuck to his game plan and found some better shots, but it was too little too late and a 21-10 victory handed Dan his first National Title.  


Our 2019 National Champions: Dan Busby & Hannah Boden

Historic Hannah Obliterating the Record Books
Our top two seeds, Hannah Boden and Matilda Parslow progressed serenely to the semi-finals defeating Lindsay Johnson-Farge and Leanne Yip respectively.  Here they were joined by Marina Zabell, who overcame the challenge of Racketlon regular Dianne Baker, a destructive game of tennis ensuring Marina would face Hannah.  She was joined by Kathryn Schutterlin who edged the tie of the round against Kim Hay, ultimately this was all round skills defeating exceptional squash prowess. Into the semi-finals and it is hardly any surprise for Racketlon followers to see that Hannah and Matilda progressed without any really issues.  Four time champion Hannah has been the lady to beat on the UK Tour since she won her first National title in 2015, while Matilda is improving at an almost exponential rate (testified to by her recent exploits in Prague).  With Hannah and Matilda victorious, we had a repeat of the 2018 final.

In the final, both women knew that they would face a difficult sport (Matilda in the Badminton, Hannah in the Squash) were points would be at a premium.  As such, that made the TT a vital element of the final.  Hannah got off to a flying start, taking the TT 21-8 and giving herself the perfect platform into her favourite sport of Badminton.  She dominated the court, giving Matilda little to feed on but a few crumbs. A 21-2 victory meaning that Hannah needed only 11 points across the last two sports. It would be easy for Matilda to shrink into her shell here, but as was evident when she claimed the Women's B title in Prague the previous weekend, she is a fighter to the last.  The squash was a high quality affair, Matilda playing really positive attacking squash and Hannah retrieving lots, but Hannah produced a few excellent shots to pick up 10 points and require just one in tennis which she got with relative ease. A fifth straight title for Hannah, who has now won more British Championship singles titles than any other player in UK Racketlon history.  

Juniors Excel Once Again
It was unfortunate that Will Gregson was forced to withdraw from the event due to injury, but this also gave a chance for another youngster to shine, as Matthew Davidson became the heavy favourite for the Boy's U16s.  The event was of a great standard, and after Matthew defeated U13 World Champion Angus Howard in the semis with ease, he faced fourth seed Will Taylor in the final. After sharing the first two sports, the squash was very tight and crucial. Matthew won 7 of the last 8 points to take the win and finished the job in a quality game of tennis.  He adds this to a Bronze he picked up in the U16s at the 2018 World Championships.  Angus recovered from his semi-final defeat to claim bronze, completing a stunning 12 months for the youngster!  

There were also a brace of U21s events.  For the Girls, it pitted Alexandra Ogram against Claudia Vincent.  Claudia raced out into a 14 point lead winning both the TT and Badminton 21-14, however Alexandra was far from done.  A dominant Squash performance was backed up with an excellent Tennis performance to seal the a first National Title.  For the Boys U21s, it was a four player round robin and after edging past Ryan Bezer by 2 points, David Bennett had a winner takes the title match against Ross Wilson.  David and Ross have been pushing each other on over the past 12 months, Ross having recently edged ahead with some excellent performances in the Men's A, but David claimed U21s gold in Prague the previous weekend, so this was a good opportunity for both to see where they stand against each other.  The answer is perilously close, the Badminton and Squash cancelled each other out, so with David having won the TT to 18, Ross needed to win the Tennis to 17 or better for the title, which he did, 21-17 meaning it was an U21s National Title for Ross, 12 months on from when he won the U16s National Title.  

It is brilliant to see the depth of youngsters on the UK Tour playing both within the junior events but also the banded singles.  Both Boys U16s and U21s champions Matthew and Ross were in the Men's A draw, while U21s runner up David was in Men's B.  U16s bronze medallist Angus Howard stepped into the Men's C and won the event, in which Ryan Bezer claimed seventh place.  Luke Griffiths won Men's A doubles with his brother Leon, while Hannah Boden's fifth National title comes with her still a teenager.  This pool of juniors can only continue to push themselves and increasingly the older players in the banded categories as well!  

Defending Champions, Defend Well!
In both the Men's O45s and O55s the defending champions, Jeremy Krzystyniak and Martyn Langston defeated familiar foes to claim their titles.  In the O45s, Mark Steeden and Jeremy came through the draws (albeit unseeded) to meet in the final. Both players gave it their all with a fantastic squash match that had both players gasping for air at the end. Steeden edged it 22-20 against the England international but left himself too much to do as Kryzstyniak won the winner takes all tennis!  For the O55's, World Champion Martyn Langston was made to work hard to defend his British title, firstly by resident American Andy Stenson (+7), and then Alan Plater (+17) before another final against Duncan Marlow, with Martyn coming through the victor +21. Despite score lines of the semi-final and final seeming relatively comfortable, Martin had to work hard particularly in the squash to pull through.  For Martyn this marks a hat-trick of Men's O55s titles, following on the back of Duncan Marlow's own hat-trick, you have to go back to 2013 for one of these two to not win this title.  Along with Hannah they are the only three players to win a hat-trick of national titles, but final defeat for Duncan left him stranded on a total of four, now one title behind Hannah in total! Finally, Sarah Ball won the three way round robin against Jane Galsworthy and Dianne Baker to claim her first Women's O45s National Title.  

Our thanks again to all the players, officials and organisers for making it another brilliant British Championships.  In particular special thanks to the Parklangley Club for hosting us once again, the club has become one of the most popular venues on the UK Tour with excellent facilities on and off the court.  Finally, it would be remiss to not thank the Kent Racketlon team, Ray Jordan and Mark Steeden who make this event happen, it is hard to put into words how difficult it is to run a two day National Championships, but they make it look simple!  
The UK Tour continues, events can be found on the website here, with tournaments open for entry in Newcastle and Keele, while future events in York, Manchester and Canterbury are coming up on the horizon!