The draws are now live for the North West Open, the fourth and final round of the 2018 Super Series.  To take you through the permutations, here is a run down of who leads and what they need to win.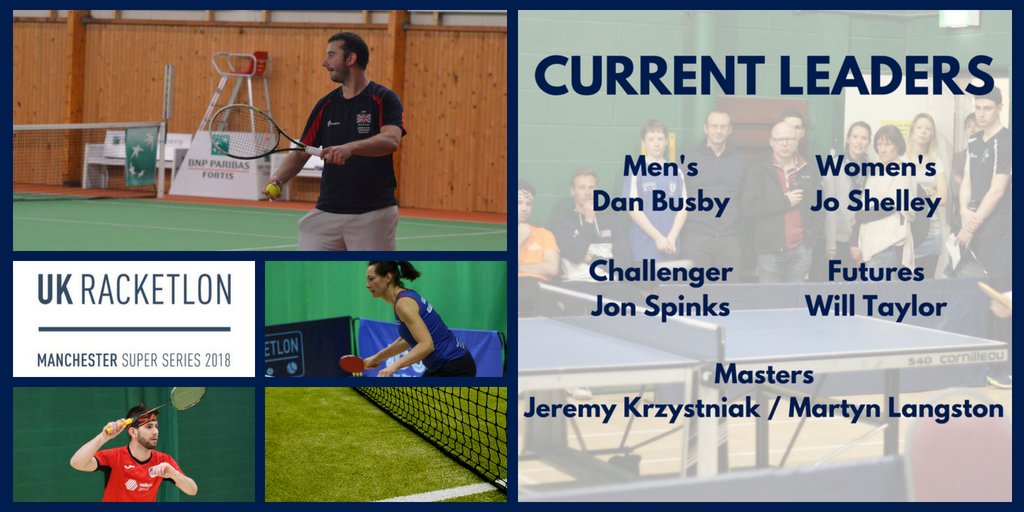 Current Standings after the Staffordshire Open


Men's Super Series
With 2000 points available for the winner of the Men's A and 600 for eighth place, Dan Busby simply needs to turn up and he will win the title as he sits 1850 points ahead of second placed Alex Du Noyer.  With 890 points to Johnny Bispham who sits in third place, you would also think that Alex has second place locked in.  However, with just 650 points to Jack Bishop in fourth, Johnny Bispham (who will be playing in the Men's B) will need to get through his opening round match to ensure he seals third place, while hoping Jermaine Manners does not win the Men's A.  

Ladies Super Series
Jo Shelley currently leads the Ladies Super Series but only 100 points ahead of rival Matilda Parslow.  Jo and Matilda have met in every round of the Super Series so far, Jo winning in the East Midlands, while Matilda took wins in the British Championships and the Staffordshire Open.  It is a 6 lady event in Manchester, so two groups of three have been formed.  With Jo and Matilda drawn in the same group, the fate of the Ladies Super Series could be determined in the first match of the day!  Whoever wins this match will finish ahead of the other, however the story isn't finished there.  Hannah Boden sits just 1000 points behind Jo and so is still in the hunt.  However, Hannah would need to win the event and for Matilda to finish no higher than fourth and Jo no higher than fifth.  As such, it is hard to imagine that the Ladies Super Series winner will not be determined by 10:30 on Sunday morning.  

Challenger Super Series
Jon Spinks currently leads the Challenger Super Series and as in 2017, this event is wonderfully poised into the final round of matches.  Jon leads second placed Peter Frobisher by 160 points, but with Peter not in Manchester, his main threat comes from Jermaine Manners, just 220 points behind.  Jermaine is currently ranked at number 3, however, he was without a ranking when the Top 30 was determined back in February.  With Jermaine second seed in the Men's A and Jon second seed in the Men's B it is a battle between the second seeds.  Sadly for Jon, it is a simple as this, if Jermaine defeats Jack Bishop in his opening match, then Jermaine will win the Challenger title.  However, Jon will finish on the podium, and looking to join him is Peter Browning, who will need a fourth place or higher finish, to steal a podium place away from Peter Frobisher.  

Masters Super Series
Jeremy Krzystiniak and Martyn Langston currently lead the Masters Super Series and they will jointly win this event unless the man in tenth place Steve Hall finishes in fourth or higher.  The Men's O45s in Manchester is also a 6 player event, with two 3 man box leagues, so Steve simply needs to beat one of Simon Dolman or Keith Sandiford to claim the title for himself.  Jeremy and Martyn will be on the podium and they will share it with whoever wins the North West Open title.  

Futures Super Series
Will Taylor currently leads the Futures Super Series just 700 points ahead of Ryan Bezer and 1100 points ahead of third placed James Vincent.  With Will not in Manchester, his status in this event rests on the performances within an 8 draw monrad competition.  Top seed Angus Howard sits a frustrating 2100 points behind Will, so even event victory (worth 2000 points) is unlikely to get Angus onto the podium.  That then leaves us with a three horse race.  

Ryan vs Will – Ryan finishes ahead of Will unless he finishes in seventh or eighth place.  Seventh place for Ryan leaves him tied with Will on 3500 points, and eighth place sees Will finish ahead of Ryan.

Will vs James – James sits 1100 points behind Will, so James will need a third place finish or higher to surpass Will in the Standings.  

James vs Ryan – There are three possible outcomes for this event with 400 points between them, however at a basic level, James must finish better than Ryan!  
i) If both lose their opening match - Ryan will finish ahead of James.
ii) If both win their opening matches - James must make the final and either win the event or finish second and hope Ryan finishes in fourth.  
iii) If James wins his first match and Ryan loses -  James must make the final or finish 4 places higher than Ryan.  

There you go, five titles will be determined in the Super Series this Sunday, four of them dependant on the outcome of the matches throughout Sunday.  Keep your eyes on the results, website, Twitter and Facebook pages early next week to find out each of our winners.