The Men's A and Ladies A were both won by familiar faces who dived in for a one-off UK Tour victory, as Duncan Stahl and Lauren Whiteman took home the titles at the first Welwyn Garden City Open.  They were joined in the winners enclosure by Billy Sutton-Mattocks (Men's B), Felicity Welbraham (Ladies B), Will Taylor (Men's C) and Malcolm Burr (Men's D).  All the results from a great day of Racketlon at the Gosling Sports Park can be found online here.  

Sunshine Stahl Jets In for FIFO Victory.
He may captain the iPro London Champions League franchise, but Duncan Stahl is currently residing in sunnier climes in Malta (there may be an exceptional Racketlon event there in October too…).  However with his schedule permitting, Duncan was able to attend the Welwyn Garden City Open, in a FIFO (Fly In, Fly Out) capacity.  However, with a strong cast of Men's A regulars in attendance, a victorious flight home was far from guaranteed.  As the first round approached, it was not the fate of Duncan that concerned many, but in fact the battle between two old foes, and stalwarts of Racketlon everywhere, Ray Jordan and Keith Lesser.  The match had attracted some Twitter discussion and voting before hand, and in the run up Ray the People's Choice.  However in the real world and no doubt spurred on by that slight, the former king of Twitter himself, Keith Lesser, upset the apple cart to produce a sensational gumi-arm victory.  Keith was rewarded with a familiar task, as he faced Alex Du Noyer in the semis.  Alex having overcome a spirited battle with Johnny Bispham.  Johnny having fought valiantly led by 4 into the squash, but a second half collapse saw a useful 11-5 deficit finish with a thumping 21-5 defeat, leaving Alex with a simple task on the tennis court for victory.  Duncan (vs Jack Bishop) and Luke Griffiths (vs Peter Browning) dominated their opponents to secure victory before the tennis in the opening round.  

A pair of pulsating semi-finals ensued, and while Alex did his expected number on Keith, dominating the badminton, squash and tennis to nullify Keith's TT skills and booking his third final of the UK Tour season, it was the battle of youth vs experience in the other semi-final that gripped the attention.  Regular readers of this site can be in no doubt of the talents of the younger Griffiths brother, while Duncan's achievements speak for themselves, having won at least one event a year since 2011.  Luke started well, a TT victory to 19 meant he led into one of his two best sports, badminton.  However, Duncan has not just been lazing in the Maltese sun and a 21-17 victory gave Duncan a slender 2 point victory into the squash.  Seriously out-gunned on the squash court, Luke fought bravely and garnering 8 points, meaning Duncan would need 7 for victory on the tennis court.  Duncan was able to get there with comfort today, but one suspects that won't be the case for long.  

As Alex began his third final of the season, he once again faced a tough opponent, albeit for the first time this year, not Dan Busby.  From the outset, it was apparent that Duncan was hitting his straps, two cracking straight TT forehand winners in the opening exchanges set a tone that was not to be changed.  A polished 21-13 victory gave him comfort into Alex's main sport of badminton.  Alex secured victory, but Duncan once again showing the efforts that he had against Luke in his semi-final and limited the damage to a 21-19 defeat.  Heading to squash, Duncan was in a commanding position and he secured victory there on the squash court.  This was Duncan's twentieth victory on the UK Tour, 4 ahead of Dan Busby on 16.  In a thrilling third/fourth place, Keith Lesser seemed to have done enough, leading by 12 heading to tennis against Luke Griffiths.  However an exceptionally cool tennis win, 21-5, sealed Luke's best UK Tour result to date.  There are still a few rough edges to polish off the youngster, however there is clearly the talent to challenge the best in Racketlon in years to come, especially older brother Leon.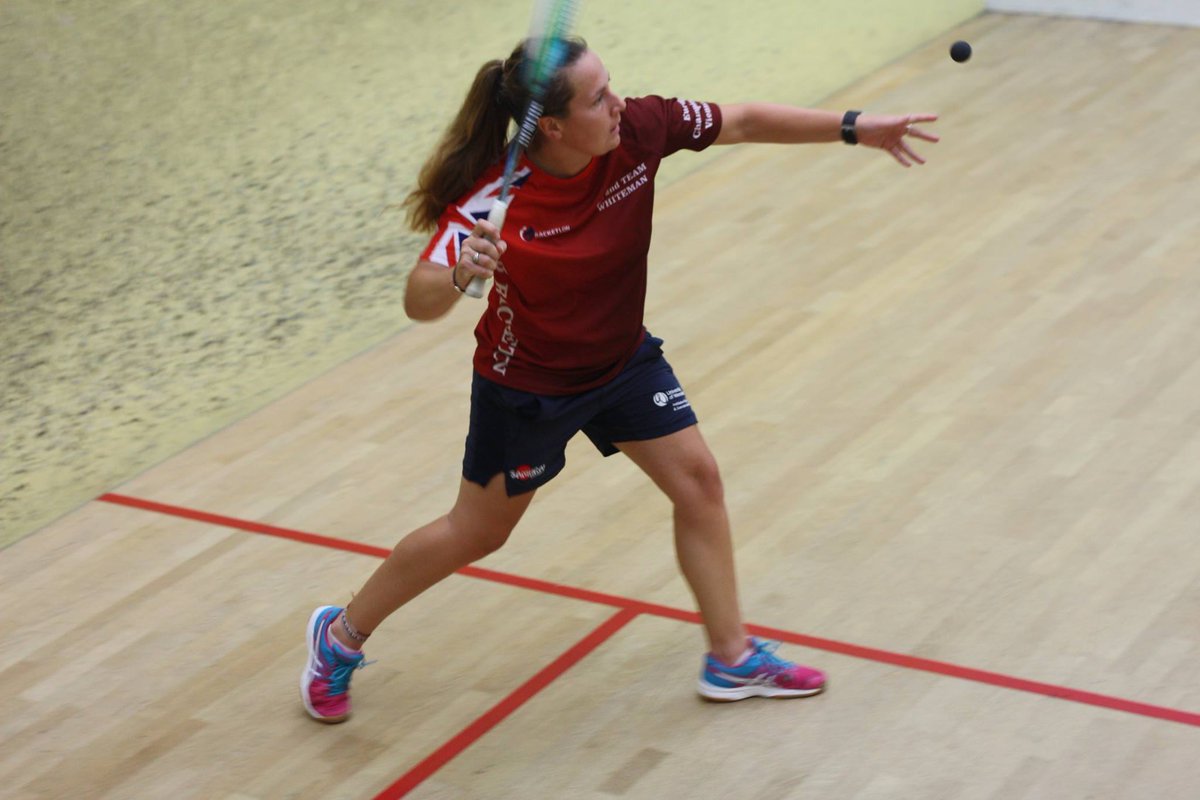 Lauren serves up a victory!

Whiteman Boxes Clever
It was a four lady box league in the Ladies A, featuring Matilda Parslow, Lindsay Johnson-Farge and Sarah Ball in addition to our special guest star, Lauren Whiteman.  Lauren may not have been in the Racketlon scene since the European Championships, however that didn't hinder her efforts, winning 10 of the 12 sets played, a squash set against Matilda and TT against Lindsay the only blemishes on her record.  However, she didn't have it all her own way.  Top seed Matilda Parslow, on the back of an excellent run to the final of the British Championships in April made Lauren work for the title.  With both Matilda and Lauren dispatching Lindsay and Sarah respectively with relative comfort in their opening matches, it pitched the two of them against each other in round 2, with both players knowing victory would almost certainly hand them the title.  Lauren edged the opening exchanges, a 21-12 TT victory followed by very good 21-8 badminton victory put her in a great place heading to Matilda's sport of choice.  Leading by 22 points onto squash, Lauren was looking to chip away and limit the damage to her lead, for Matilda, she faced huge scoreboard pressure, knowing of Lauren's prowess on the tennis court.  Matilda coped well with the pressure, and a 21-4 victory meant that Lauren led by 5 onto the tennis court.  However, despite her best efforts, Matilda just couldn't cause the damage needed to get past her opponent and Lauren cruised home to victory.  The other tie in round 2 saw the battle of the besties, with friends (and on the day, car share partners) Lindsay and Sarah face off to decide third place.  Lindsay cruised the TT before winning the badminton, a useful situation knowing what her friend could do to her on the squash court.  Sarah hit back, a thumping 21-6 victory, meaning that Lindsay needed 11 points for victory on the tennis court.  Both regular and accomplished tennis players, they traded blows, but with Lindsay needing just 11 the task was too great for Sarah, and Lindsay ran out the victor.  In the final round of matches, Lauren didn't make a mistake against Lindsay and secured her first title on the UK Tour since February 2017 (East Midlands Open), while Matilda came home in second place as she defeated Sarah.  

Juniors Coming On Through
Regular readers will also be aware that our talented juniors extends beyond the likes of Leon and Luke Griffiths.  David Bennett, Ross Wilson and Will Gregson have all made names for themselves in recent years, moving up the grades and pushing their elders and frequently moving past them.  There was more of the same here in Welwyn as Billy Sutton-Mattocks and Will Taylor both added their names to the collections of juniors winning titles in the Men's B and Men's C respectively.  In the Men's B, Billy came through three matches against established Men's B players, his tennis skills getting him through a close encounter with Graham Norton, before ending the unlikely charge of Tournament Organiser James Pope in the semi-finals to reach his first Men's B final.  Here he would face a tough test in the shape of Stuart Rank.  Stuart had also had a hard work out of a day, defeating Joel Durston in his opening match, he then defeated Nigel D'Arcy in the semi-final, impressively reaching the final having only played 4 points of tennis.  Into the final, and Billy (TT) and Stuart (badminton) shared the opening sports, Stuart taking a slender 2 point lead to the squash court.  A tempestuous squash set occurred, inevitable with two tall rangy people trying to fit into a squash court together.  Stuart won to 16 and needed 15 for victory.  However, Billy, a very handy tennis player, controlled the court and claimed his first Men's B title by 5 points with a 21-9 victory, while Nigel D'Arcy claimed third place.  Billy and fifth place finisher, Ben Larcombe are both players who have over recent months worked their way up the groupings, winning at Men's D and Men's C level to progress into playing the Men's B, working hard all the time to improve their weaknesses, they are further evidence of how standards are raising and the competition getting better and better!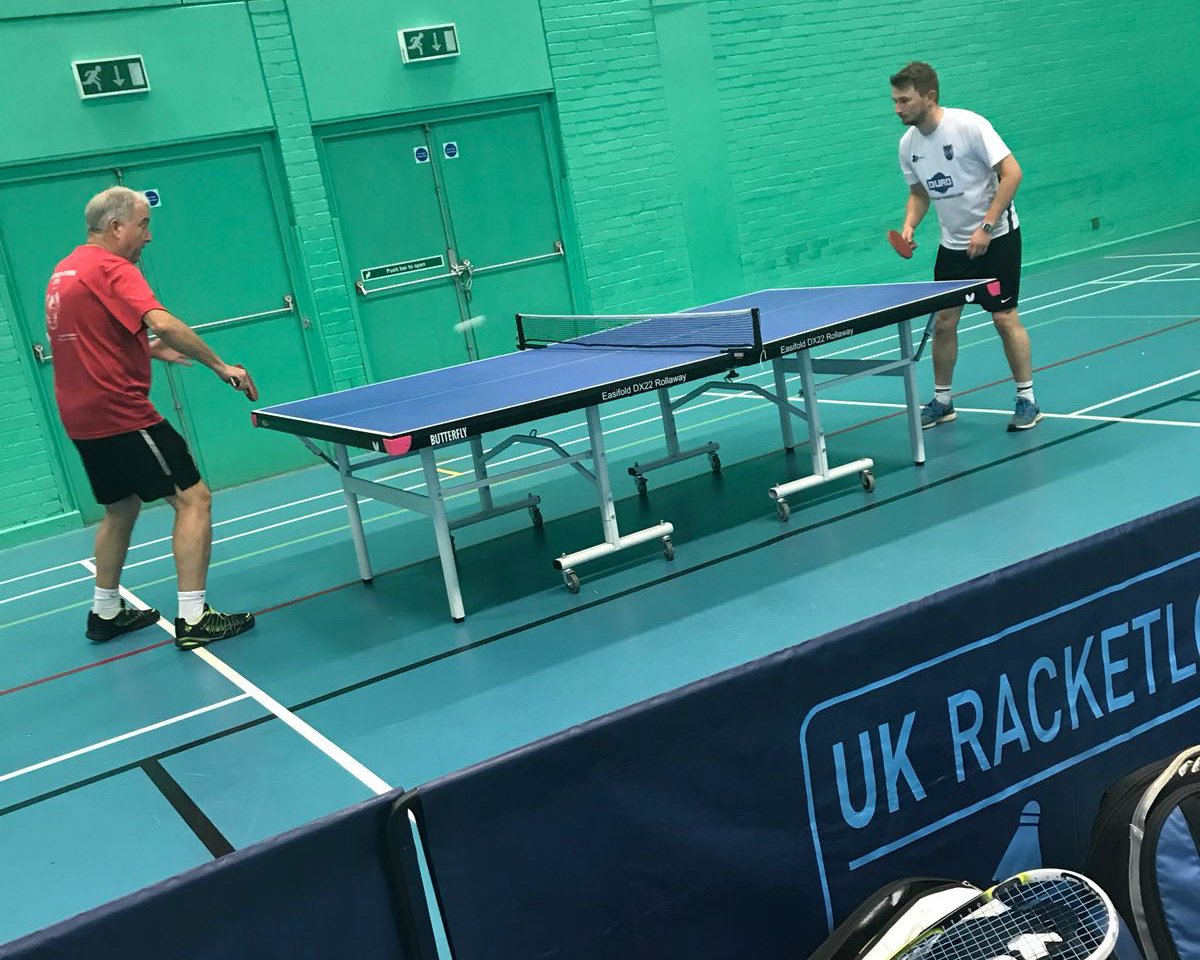 Strong competition in all the classes!

It was a similar story in a fiercely contested Men's C, as youngster Will Taylor came through victorious, thanks in part to two nerveless tennis performances in the semi-final against Alex McMillan (winning 21-5 with Alex needing 10 for victory) and then withstanding the onslaught of another excellent tennis player, Jason Foster, to reach his victory target of 14, with Jason just a few point shy of the 21 he needed, on 19.  Alex finished third, defeating the second semi-finalist, Leigh Ware.  

A last minute entry is nothing new to a Racketlon event, having enquired on Monday if there was still a space in the Men's D, Malcolm Burr was told that sadly there wasn't.  But after a late injury withdrawal, he was added to the event on Thursday morning, excited by the chance of playing some Racketlon.  Two victories later and Malcolm found himself in the final against Moz Khudairi.  Moz, having survived a nervy first round match, winning by 2 points over Ray Ryan, faced Malcolm, and as both players traded heavy defeats in the opening sports, Malcolm led by 1 point into squash.  A 21-16 victory here gave him a 6 point cushion over Moz into the tennis.  Moz however was far from done, and encouraged by his opening round tight victory pushed Malcolm all the way, at 20-15 to Moz, it looked almost certainly like a gumi-arm to decide the victory, but Malcolm nicked that crucial point and at 16-20 he secured a victory that wasn't possible until Thursday morning.  Rob Hunt defeated Brendan Carroll to claim third place.  

All in all, a highly enjoyable tournament at the Gosling Sports Park.  It would be remiss of me not to mention the real star of the day, Helen Ford, who manned the tournament desk giving me the freedom to play and roam around the event making sure the tournament ran smoothly!  The UK Tour continues apace over the coming months, with events in Northumberland (17th June), Staffordshire (8th July) and Manchester (22nd July) all open for entry.