Essex claimed their first County Championship title with a thrilling victory over Yorkshire, triumphing by 6 points across the whole match.  Division 2 was won by Cambridge 1's whilst Staffordshire claimed the inaugural Division 3 title as the largest 1 day team event in Racketlon history was hosted at the Gosling Sports Park.  All in all 115 players across 20 teams played in three divisions in a thrilling action packed day of Racketlon, which featured the full range of Racketlon experience from two world top 10 players to a score of newcomers to the sport.  Team Racketlon takes the usual "every point counts" situation and multiplies by four, as four team ties (two men's singles, a ladies singles and a men's doubles) are combined to produce an overall team result. All draws and results can be found here.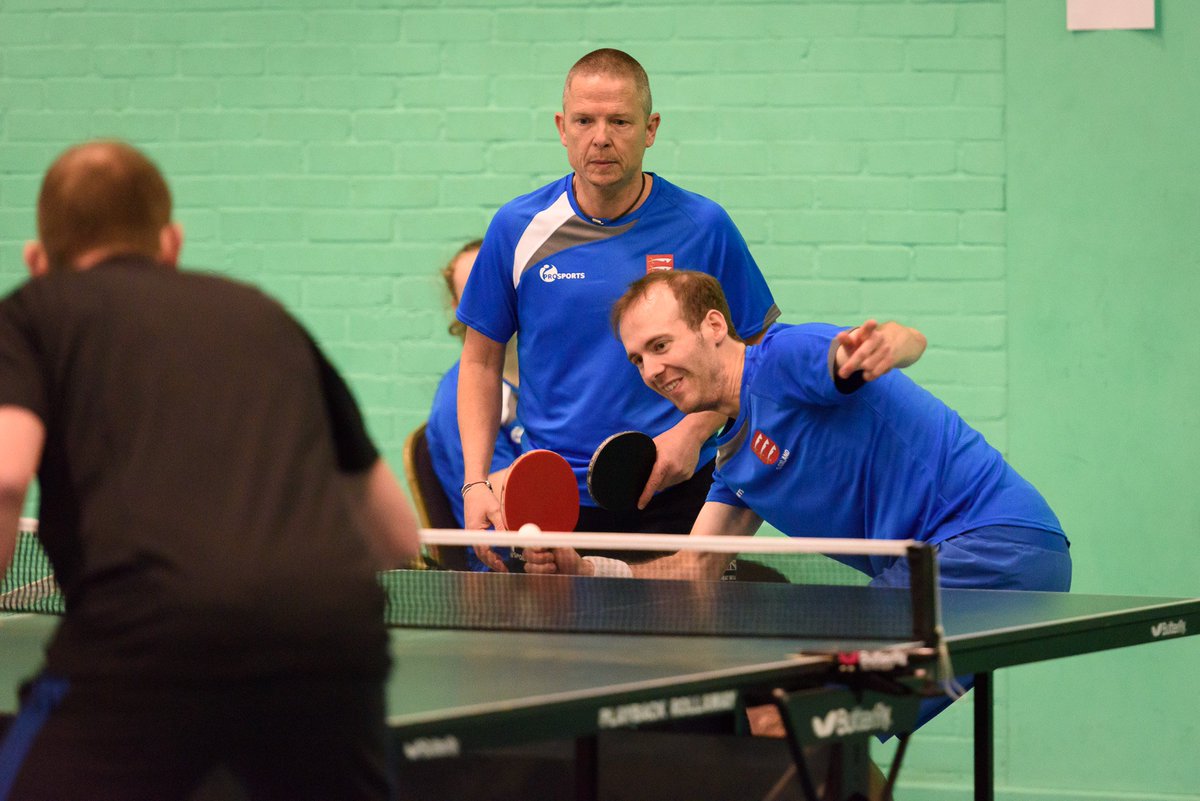 Neville & Oxland in action in the Semi-Finals (Photo by Pierre Oliviere)


Division 1 comprised 8 teams with some juicy line ups in round 1 and it wasn't certain who would overcome who in some of the ties.  Essex breezed past Hertfordshire A, their host of experience aiding their progression, whilst Kent A also negotiated Surrey B with relative ease, Yorkshire were able to overcome Surrey A in a tight match particularly in the doubles, Boden/Harris edging the battle with Jackson/Silvester.  Middlesex dispatched Nottingham with comprehensive singles victories for Stahl & Krzystyniak over Coley & Watkins.  The resulting semi-finals pitched Essex against Middlesex and Kent against Yorkshire.  Despite defeat for world number 5/Essex number 1 Kresten Hougaard to world number 8/Middlesex number 1 Duncan Stahl, big wins for Elise Lazarus against Kim Hay and the Oxland/Neville doubles partnership over Mauroy/Todd ensured the pressure was off Essex number 2 Keith Lesser in his singles with Jeremy Krzystyniak, Essex ran home comfortable 31 point victors.  In the second semi-final, it all started out so well for Kent, Ray Jordan edging out Dan Busby by 6 points and Candy Wilton defeating Michelle Hall to 19 points, leaving quite a deficit for the Yorkshire side.  However, the Boden/Schofield doubles defeated Bishop/Penna and Luke Barnes was too strong for Andy Murphy in the second men's singles.  Yorkshire, therefore through to the final against Essex.
The teams lined up as Busby vs. Hougaard, Hall vs. Lazarus, Piers Boden & Mark Harris vs. Oliver Oxland & Mark Thornley, and Barnes vs. Lesser.  What was to follow was the closest County Championships final ever seen.  After TT Essex were 30 points clear, with victories for Hougaard, the doubles and Lesser.  A team clean sweep on the badminton brought Yorkshire roaring back into it, as the White Rose staved off the swishing of three swords to take a 3 point lead onto the squash court winning all four badminton rubbers.  Onwards to squash and helped significantly by the prowess of top squash junior Elise, Essex started to strike back.  However, this could have been for nought if it was for the tenacity of the "Ginger Ninja" Keith Lesser.  Luke Barnes led 20-8 on the squash court, close to giving Yorkshire a healthy lead into tennis, but Keith wasn't giving up.  Fighting hard, 20-8 finished 21-17 to Barnes, and Essex had 9 vital points, the Yorkshire lead was gone and instead Essex would take a 5 point cushion onto the tennis court.  It was to prove a molehill of a lead that would become an insurmountable peak for the Northerners.  Busby edged out Hougaard 21-19 and Hall defeated Lazarus 21-15 to put Yorkshire into a slender 3 point lead with just doubles and the second singles to play.  Oxland & Thornley won 21-10, handing an 8 point advantage to Essex.  However, Keith Lesser isn't exactly known as being the ginger Roger Federer, could he find himself the hero or the villain? In these circumstances being the second men's singles can be torture, could he stick close to Barnes? Never letting Luke out of his sights, Keith lost the tennis, but only narrowly, 22-20 to ensure that it was victory for Essex and the North's wait for a county championship victory goes on.  Kent recovered from semi-final defeat to claim third place.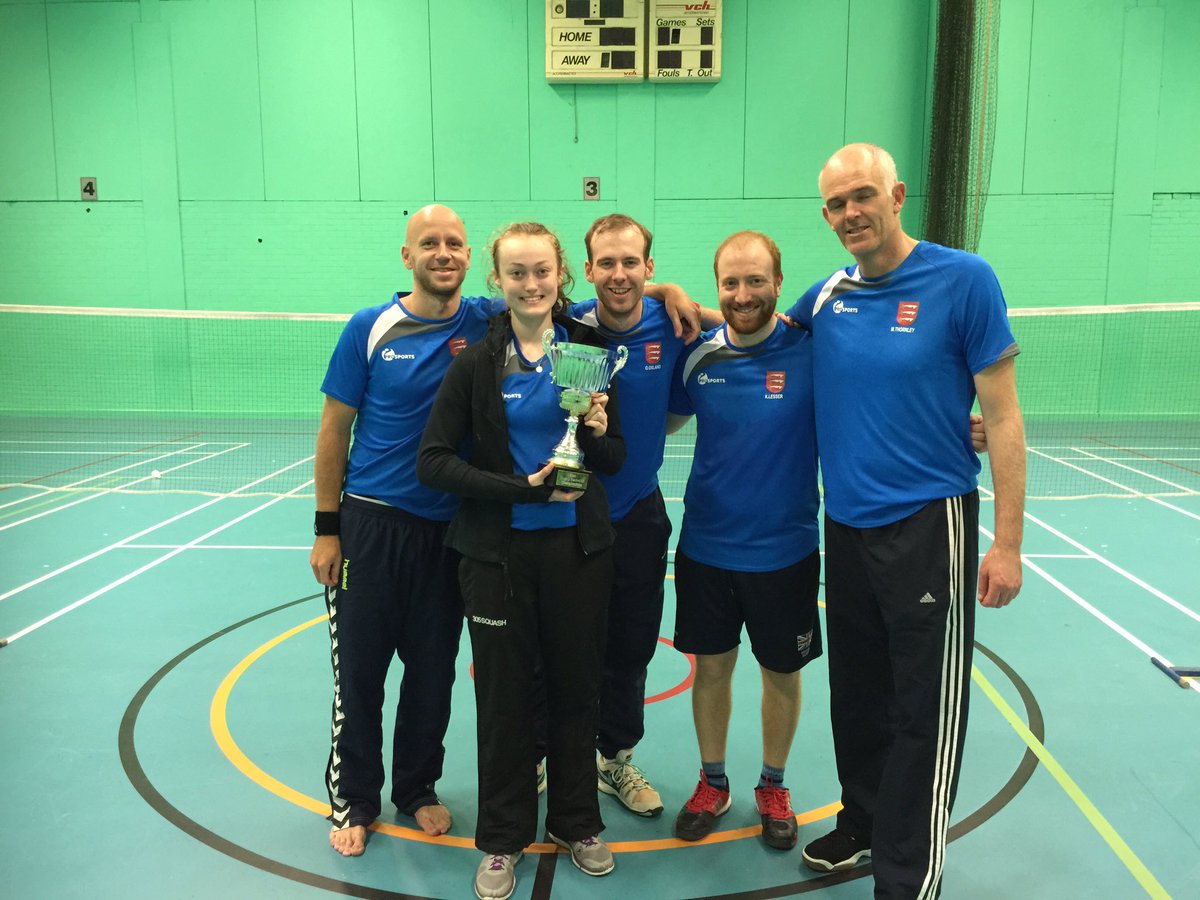 The Victors: Essex (L-R) Kresten Hougaard, Elise Lazarus, Oliver Oxland (c), Keith Lesser, Marc Thornley (not shown Kevin Neville)
Division 2 featured some enthralling ties, with a number of teams who believed they deserved a shot at the Division 1 crown, but were forced into division 2.  Cambridgeshire 1 crushed much fancied Nottinghamshire 2 by 40 points, in what was a pretty disappointing day for the Notts Racketlon squads.  Crushing squash and tennis victories for Kate Russell saw Hertfordshire B defeat Cambridgeshire 2, as Herts came home by 20 points, while Shropshire battered Norfolk by 59 points, Paul Mathieson backing up his pre-tournament big talk to Johnny Bispham.  However, tie of the first round featured Kent 2 vs Derbyshire, as a pair of nervy 21-16 tennis victories in men's singles 2 and doubles rubbers ensured a 2 point win for Kent, as Derbyshire were left the wrong side of the closest result all day, 2 points difference in a 550 point match is insanely close!  Shropshire progressed to the final, by defeating home side Herts B, Tom Lees the hero, his +31 victory over Lucas Cannistraci quite literally the difference between the sides.  Shropshire were joined in the final by Cambridgeshire 1 who dismantled Kent 2 thanks to huge singles wins for Leigh Sands and Sam Pickup over Nick Easton & Glen Appleby respectively with Dianne Baker chipping in with a 5 point win over Lisa Hogben.  In the final, Cambridgeshire 1 proved too strong for the Shropshire team, despite the efforts of Shirley Barre for Shropshire, defeats in doubles and both singles matches ensured that Cambridgeshire were triumphant, a squad that would have competed in Division 1 for sure.  Congratulations to Leigh Sands, Dianne Baker, Sam Pickup, Nick Balon & Shoaib Gangat.  Hertfordshire B defeated Kent 2 to seal third place.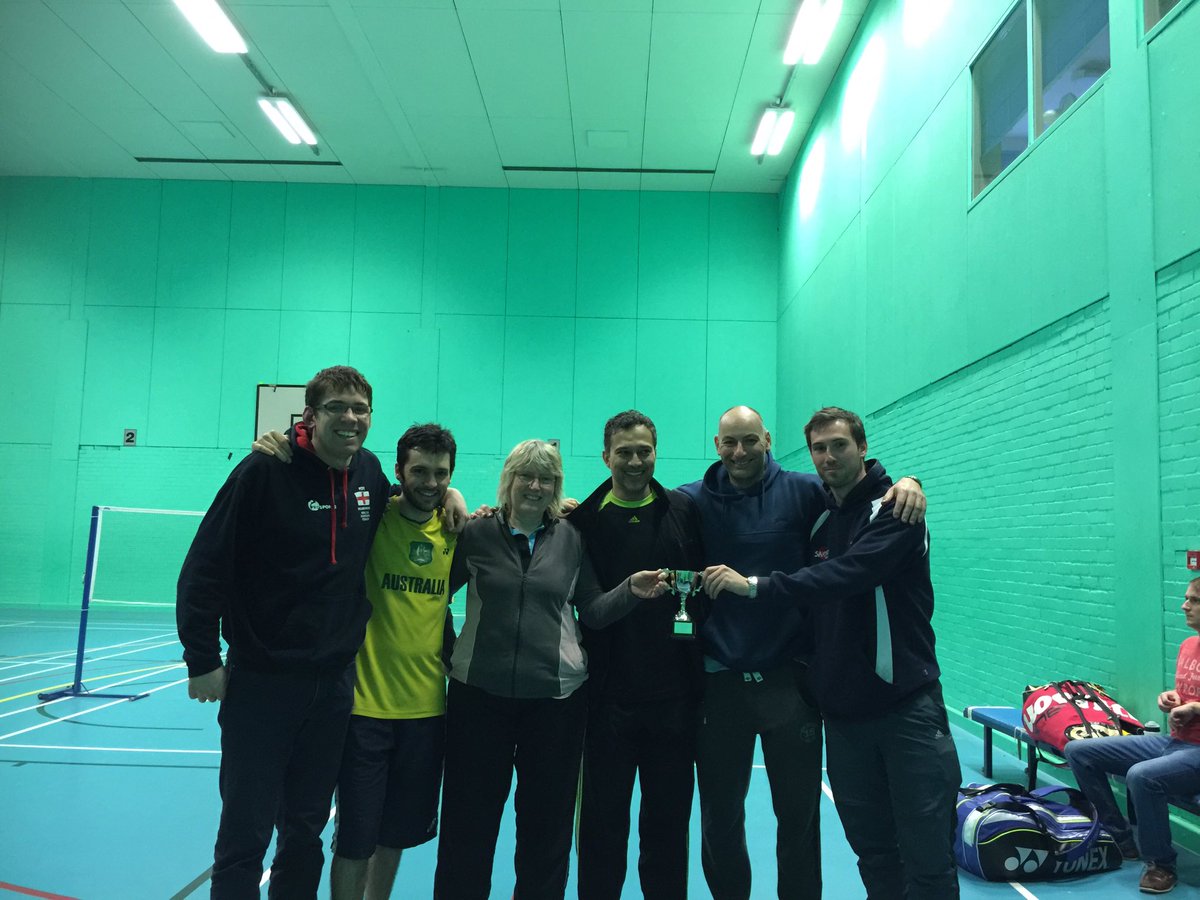 Division 2 Champions: Cambridgeshire 1 (L-R) James Pope (non-Playing), Leigh Sands, Dianne Baker, Shoaib Gangat, Nick Balon & Sam Pickup
In Division 3, Staffordshire 1, unlucky to have missed out on a place in the Division 2 draw made up for that disappointment by dominating their semi-finals and finals to claim the Division 3 title, defeating Nottinghamshire 3 in the final.  Led by the indomitable George Roberts ably supported by Adit Patel, Rachel Sheridan, Jon Healey and Stuart Rank, the Staffs team dominated with a smile and laugh.  Hertfordshire C defeated the Rest of Counties squad to take third place.
Overall, this was the biggest and (based on player reactions) the best County Championships ever run.  Maintaining the team format, but in a schedule that allowed players to play all matches to 21 up ensured that everyone got the maximum court time possible.  For this to have worked so successfully is testament to the hard work of the 20 county captains.  They arranged their squads, sorted injury cover and on the day managed their teams efficiently to ensure that the schedule could be maintained.  It is not an easy task to captain a county and the success of this event is as much due to them as the counties organising team of Dan Busby, Ray Jordan, James Pope and Duncan Stahl.  It has in all honesty left us with some questions about next year, but the right sort of questions, namely how do we maintain and improve on the 2016 County Championships?  Plans are also afoot for a new team event to be played in the autumn, which will aim to answer the question that divides us all, "Northern Numpties or Southern Softies, Who is Better?"  More to come on this in the coming months, for now congratulations to our County Champions and thanks to all who made it possible.