Despite hot-footing it straight down to the O2 Arena to help cover the ATP World Tour Finals, Sam Barker found time to send UK Racketlon his view from the organisers table of the inaugural Robin Hood Open.  Read on for his take on events. 

The 2017 UK Racketlon Tour drew to a close in Nottingham with a mixture of familiar faces and Racketlon debutants. Returning to Nottingham Trent's Lee Westwood Sport Centre for the second time this year the tournament once again drew a capacity crowd with nearly 60 competitors taking to the court. Despite frequent visits to Nottingham in recent years, the Robin Hood Classic was making its inaugural appearance on the UK Racketlon Tour.  All teh results can be found here. 
 
Shelley Survives Late Parslow Challenge to Take Notts Title
Jo Shelley walked away with the Robin Hood Classic with the Womens A title but not before suffering a late scare against Matilda Parslow. Shelley had looked extremely impressive in earlier wins over Michelle Hall and debutant Sally Turner. Parslow though, battling through a damaged ankle, overcame the odds in the event's final match, needing 18 to secure a magnificent upset after some impressive badminton and squash. After losing earlier in the day to Turner, victory for Parslow would have led to a three-way tie for top spot and the title decided on points difference. Fortunately for the calculatorless organiser but unfortunately for Parslow, Shelley used all her Racketlon experience to take a superb victory by just one point, securing her the title and ensuring an excellent second place for Turner on her debut.

Busby Dominates the Field
Fresh off the back of a victories in Hertfordshire and Belgium, Dan Busby was in imperious form seeking to make it three Racketon titles in three consecutive weekends. The Nottingham resident did not need to dust off his tennis racket on his way to yet another UK Racketlon Tour title. In the first round he faced familiar face, Andrew Hopwood. The fellow local will be sick of the sight of Busby after drawing him in all three tournaments in the city this year. There was another all-Notts clash in the bottom of the draw as Will Coley overturned Mark Green. Simon Lau followed up his recent GB callup by reaching his first A grade semi-final with victory over Paul Mathieson. His reward was a date with red-hot top seed Busby, a match that Busby would win routinely. Keith Lesser fought off a valiant A grade debut from Peter Browning to set up a match against Will Coley. Top ten player, Coley, emerged from a topsy-turvy semi-final to set up an all-Notts clash in the final. In the final itself Busby was simply too good. Outplaying and outsmarting Coley, Busby's recent hot streak was on obvious display as he strolled to the title without hitting a tennis ball.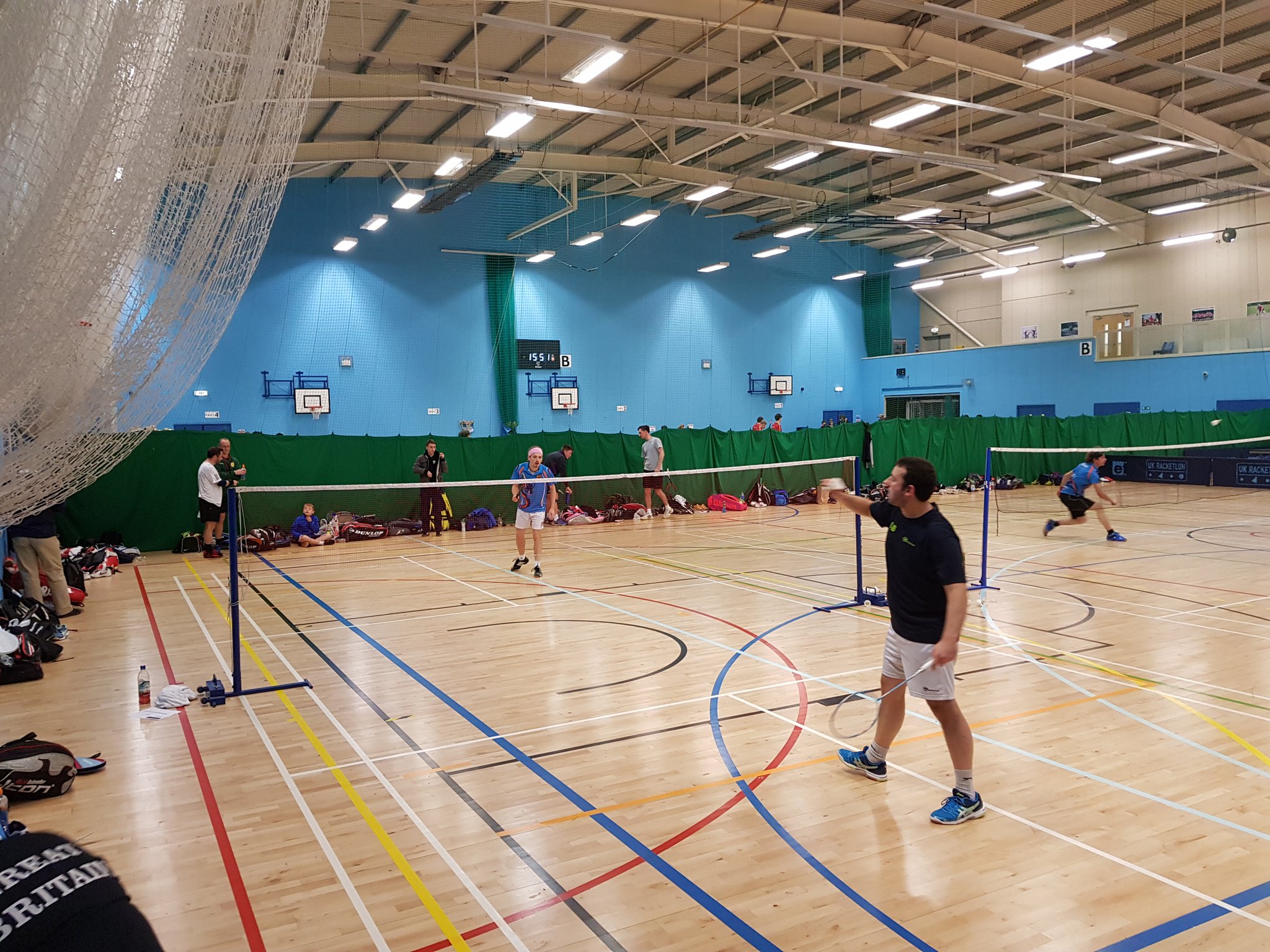 An All Notts Final: Coley (far) vs Busby (near) (@NottsRacketlon)

Seeds Shine in B Grades as Frobisher and Baker Take Titles
Peter Frobisher also kept his tennis racket packed away on the day as he demolished the opposition in the Mens B. In a grade stacked with badminton players, 2nd seed Frobisher came past James Trueman and Nick Riddle before upsetting top seed Geoff Woods in the final. Woods had battled through two tough matches against Matthew Rofe and the returning Ross Frisby before falling in the final.

A host of newcomers were on display in the Ladies B but it was a familiar pair in the final as top seed Dianne Baker faced 2nd seed Amy Ainsworth. Baker comfortably defeated Gemma Hopwood and Saoirse O'Sullivan to reach the final while Ainsworth produced the comeback of the day in her semi-final against Bethan Grinsell. With Grinsell needing 8 to win in tennis, Ainsworth produced a cultured display, eventually grinding out a 21-5 victory. In the final, Baker was out for revenge after losing by just four points in Wales earlier in the year. Despite cutting it very fine in the tennis, Baker was able to sneak a victory by just three points in a captivating final.

Tetley Picks Up Home Title While Cook Wins the "Battle of the Bens"
Nottingham Racketlon had plenty to cheer about at the Robin Hood Classic and one of the standout moments was a first singles title for another home favourite Jake Tetley in the Men's D. Squash dominance was the key to his success as he conceded just 11 points in his three matches against Tom Coley, Jon Francombe and Simon Wareing. This event was blown open at the start as seeded players Harry Courtney and Jon Francombe both lost incredibly close matches. After defeating Courtney on a gumi-arm, debutant Simon Wareing went on to reach the final, eventually losing to Tetley. Special thanks to Sam Wilson who filled in as a late replacement.

A competitive C grade came down to a "Battle of the Ben's" as Ben Larcombe and Ben Cook faced off for the title. Both had upset seeds in the semi-finals with Larcombe beating Lee Gregson by 14 points and Cook beating Jonny Wan by the same scoreline. In the final, table-tennis expert Larcombe took a commanding 21-1 lead but Cook's strength across the final three sports paid dividends, securing him his second Racketlon trophy in just three tournaments.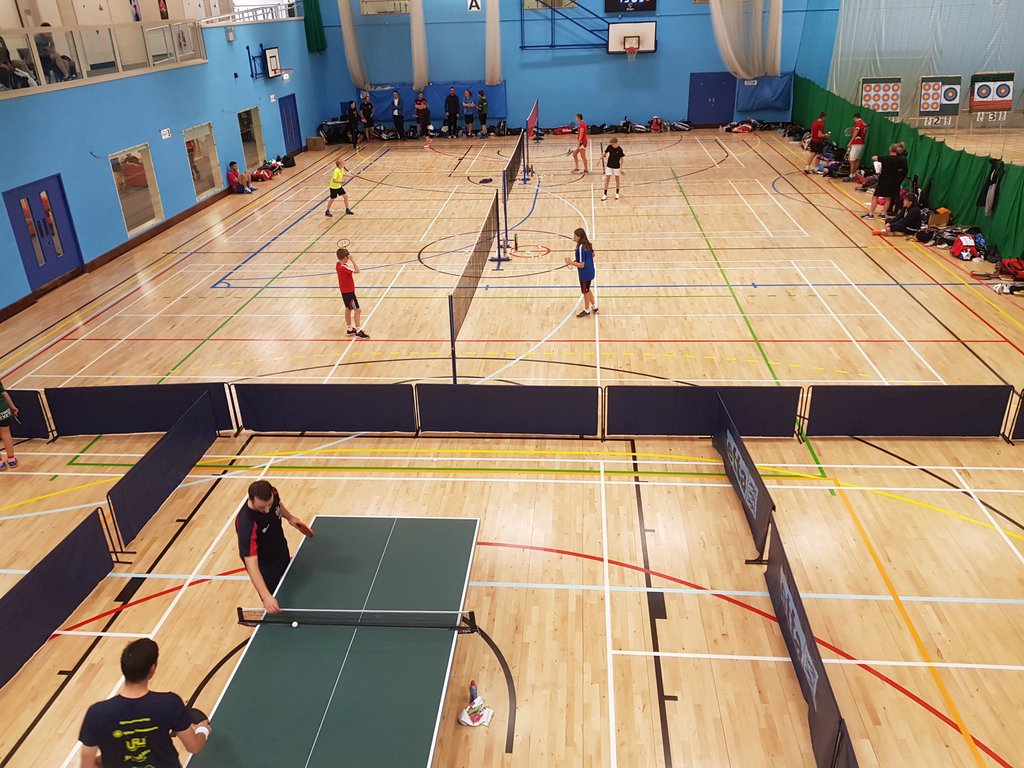 Excellent Facilities and Lots on Offer for all the players (and some archery on the right too!) (@NottsRacketlon)

Winch Wins Debut Title and Green Continues to Shine
Alfie Winch made a superb Racketlon debut as he strolled through a tough round-robin format to win all four matches and take the junior title. The all-important match happened in the fourth round of fixtures as Winch defeated second-placed Adam James Boyce by 15 points in a close match. Boyce put on another solid display and has now finished in the top three at all three tournaments in Nottingham this year.

Junior success was also on display in the Mens E with the final decided between two players who could have played in the junior category.  Connor Green and James Phillips demonstrated just why UK Racketlon is so excited by the current crop of upcoming juniors as they played a high-quality final. In the end though it was Nottingham local and England junior table-tennis player, Connor Green, who secured the victory, his table-tennis and tennis proving too good for Phillips.