Counties moves to Dudley
The team event moves to Feb 2014 (15th Feb) and will be at David Lloyd Dudley, one of England's premier racketlon venues with on site accommodation and the venue for the 2006 English Open.
This will be a one day event, between 9am-6pm with a player's dinner at the end of the event.
The ERA AGM will also take place at this event.
Raymond Jordan will act as Head Referee and Tournament Director.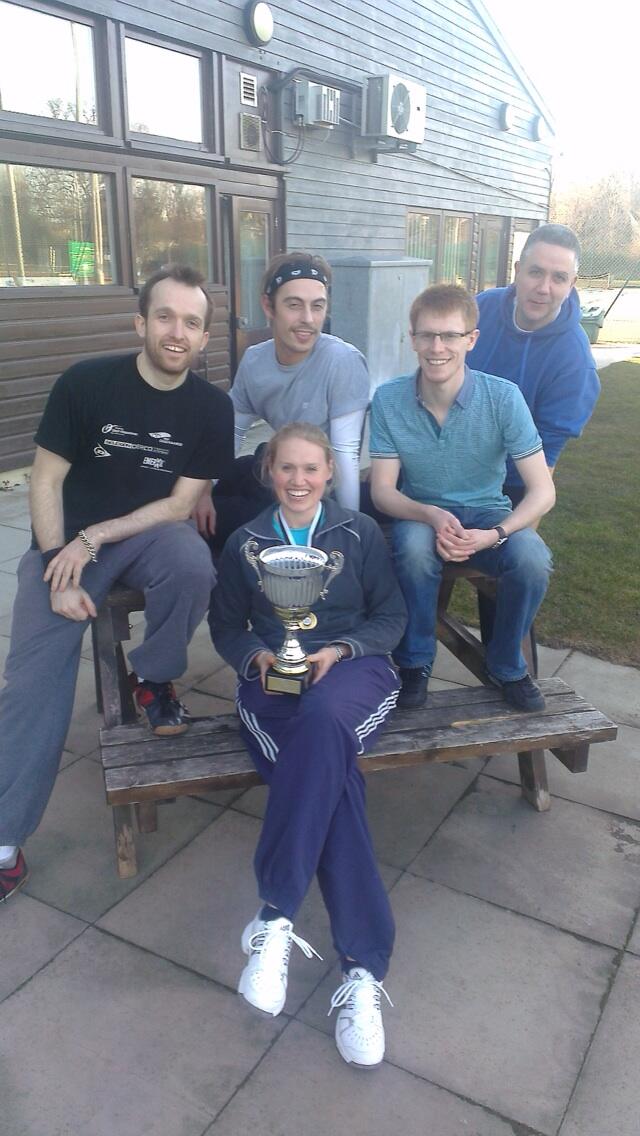 We are aiming for 8 teams with hopefully new entries from Dorset.
To enter, use the contact form via this website.
Payment will be £125 per team. 4 Men and 1 Lady per team. Payment via bank transfer.
To apply for a team, also use the contact form on this website.
County captains will be appointed in due course.
Last year's winners, Middlesex above.


5th NATIONAL TEAM CHAMPIONSHIPS
The 4th County Team Championships will again be moved to a new venue for the first time. At least 8 teams are expected and players without teams willing to play can be placed in teams accordingly. Players from the same club, region are encouraged and The English Racketlon Association can facilitate this. The winners and runners up qualify for the Champions League, held in Vienna in September 2014 two weeks after the world championships in England.
---
Fees - £125 per team. £25 per player. Individual players can also enter and join a team organised by English Racketlon.
Payment for this tournament as an exception is via Bank Transfer only. This is because of the low entry volume (team based primarily) and high entry fee. This is a one off and entry will continue to be primarily web based for other English Racketlon events.
Bank Transfer to sort code, 205274 and account no 10607673. "english racketlon". email This email address is being protected from spambots. You need JavaScript enabled to view it. to confirm payment and team details.
Email This email address is being protected from spambots. You need JavaScript enabled to view it. for details to volunteer as captain, find out who your captain is or volunteer to join a team.
Teams will ideally be split by County or Regions EG Essex.  Some Counties already have captains and more will be appointed in the coming weeks. Teams and Captains can be nominated and entered by any members of English Racketlon. Please nominate yourself to This email address is being protected from spambots. You need JavaScript enabled to view it. as a team captain if one is not already confirmed. Captains will contact players in their region who are registered users on the website. Players can also contact captains directly to volunteer their services (via the website). Players can also enter Team Wanted if a team is required. If demand for a specific county (EG Middlesex) is high a 2nd team could well be appointed.
The format will be as per the new rules regarding the European Club Championships (Champions League) as approved at the FIR AGM 2013 in Zurich. This means teams of four men and one woman. A match consists of two mens singles, one mens doubles and one ladies singles simultaneously. The total of all the points gives the winner. Teams can rotate which men play singles and doubles on a rolling match basis.

Registration will be via email or the contact form. The team registration fee is £125. For team wanted the registration fee is £25. If you want to enter via cheque or bank transfer contact 

This email address is being protected from spambots. You need JavaScript enabled to view it.

 Teams require a minimum of 4 men and 1 lady.

There will be a maximum of 12 teams.

The winners and 2nd placed teams of the competition will qualify for the FIR Champions League 2014 which will form part of the Austrian Open in September 2013.

Unfortunately at this juncture there is no prize money or subsidy for this event. However, there World Team Champs in Austria does have some prize money.

Criteria to play for a county team is either birth in the county, residence in the county or a registration for a local club (any of the four component sports or a racketlon club). Checks will be made through a random sampling process.

Each team will have a ranking list based on the UK Rankings and can decide for each match who is playing in singles and doubles. The singles has to be in ranking order.

If a player wishes to play but their region doesn't have a team, we can either try and get a team from that region or make up a "rest of counties" team.
If categories are full & there are no suitable alternatives, please email 

This email address is being protected from spambots. You need JavaScript enabled to view it.
Entry closes when capacity is reached and latest two weeks prior to the event on 1st Feb - entry may close earlier if full. Payment must be received in advance via BACS.

We regret that we will not be able to refund any entry fee on a cancellation less than a week away (once draws are completed) from the competition day. It is likely county teams will have 3 scheduled matches to 21. Enter a team and should you be unsuccessful in being placed in a team one week before the tournament (unlikely) you will be granted a FULL refund.
Participant Waiver - Note, each participant is providing an electronic signature to this waiver upon registration.
I understand that participating in this event is potentially hazardous, and that I should not enter and participate unless I am medically able and properly trained.
In consideration of the acceptance of this entry, I assume full and complete responsibility for any injury or accident which may occur while I am traveling to or from the event, during the event, or while I am on the premises of the event.
I also am aware of and assume all risks associated with participating in this event, including but not limited to falls, contact with other participants, effect of weather, traffic, and conditions of the road. 
I, for myself and my heirs and executors, hereby waive, release and forever discharge the event organizers, sponsors, promoters, englishracketlon.org and each of their agents, representatives, successors and assigns, and all other persons associated with the event, for all my liabilities, claims, actions, or damages that I may have against them arising out of or in any way connected with my participation in this event. 

I understand that this waiver includes any claims, whether caused by negligence, the action or inaction of any of the above parties, or otherwise.

I understand that the entry fee is non-refundable and non-transferable in the time periods advertised and any pullout with due notice will be considered for a partial refund accounting for an administration charge. I hereby grant full permission to any and all of the above parties to use any photographs, videotapes, motion pictures, website images, recordings or any other record of this event.