Racketlon Training Camp - A Global First
By The Boden family - Malcolm (father), Piers (son) and Hannah (daughter)
It was 1.30 PM on Friday 27th September 2013 and we had arrived at Center Parcs in Elvedon Forest for the first ever England  Racketlon Training camp; now the first priority, having never been to Center Parcs before, was to work out how to get out of the car park. After 4 circuits of it and the realisation that you couldn't access the road to the villa until 3 PM, we decided to park up and explore for an hour. The facilities were excellent with everything 2 x junior Racketlon addicts could hope for; tennis, squash, table tennis and badminton courts by the dozen, plus other attractions that on any other visit would prove just as distracting to a 13 year old girl and 15 year old boy; indeed it was a struggle to drag them back to the car to go and check in to the villa.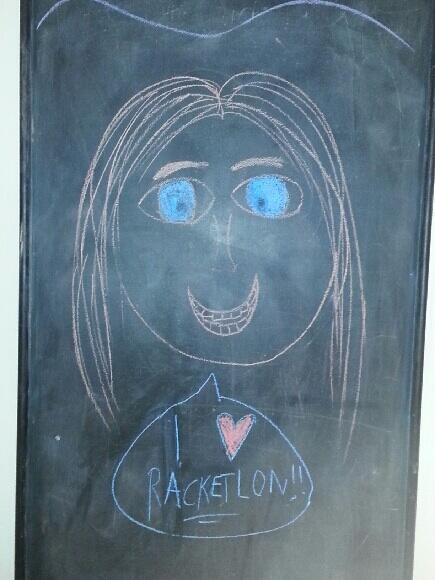 On the promise that as soon as we had unpacked we would return, plus the fact that there were courts booked for the 20+ strong group from 5 PM anyway, we found the villa that we were sharing with Richard Lawrence, Ed Harvey and his partner Jen, and unpacked the myriad of rackets, shuttles, balls, trainers, sports clothing and equipment that would be needed for a weekend of intensive training. Richard set the tone for the weekend by unpacking his remote controlled snake (his gift from the Alternate Open), his FIR tour bronze medal, and the biggest bag of equipment we had seen. There were enough balls, shuttles, freeze spray and squash goggles to keep the entire site going for the weekend, let alone the Racketlon camp. Having realised that internet access and mobile phone coverage was virtually non-existent in the villa we spent the evening in the sports complex, where we were to remain for most of the weekend!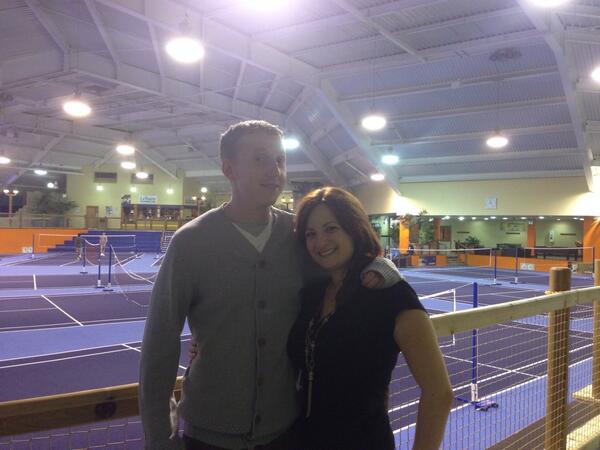 Dave Ridout and Kathryn Rogers - voted Center Parcs couple of the year*
*unofficially
First up on the Friday was squash, followed by badminton, and the mix of players was excellent, ranging from 11 yr old Ross Wilson from Norfolk, who has real potential as a Racketlon player, to a host of top English (and French – Anthony Barbier) players who shared tips, techniques and banter with all. Keith even decided that he would share his badminton skills and knowledge with Piers and Hannah but must have been tired as he seemed to spend most of the session picking the shuttle and himself up off the floor! Later that evening it was American pool in the bar and the planned early night actually resulted in bed after midnight.
That wasn't best preparation for the 9.30 AM table tennis session on the Saturday but everyone made it and then spent over 9 hours receiving coaching from the resident experts across all 4 disciplines. This input alone was worth the 3 hrs travel time from Yorkshire and both Piers and Hannah picked up lots of little tips to improve their squash (Dave Lazarus) and table tennis (Keith), with the other coaches also doing their bit in badminton (Alex Du Noyer) and tennis (Dave L and Oliver Oxland).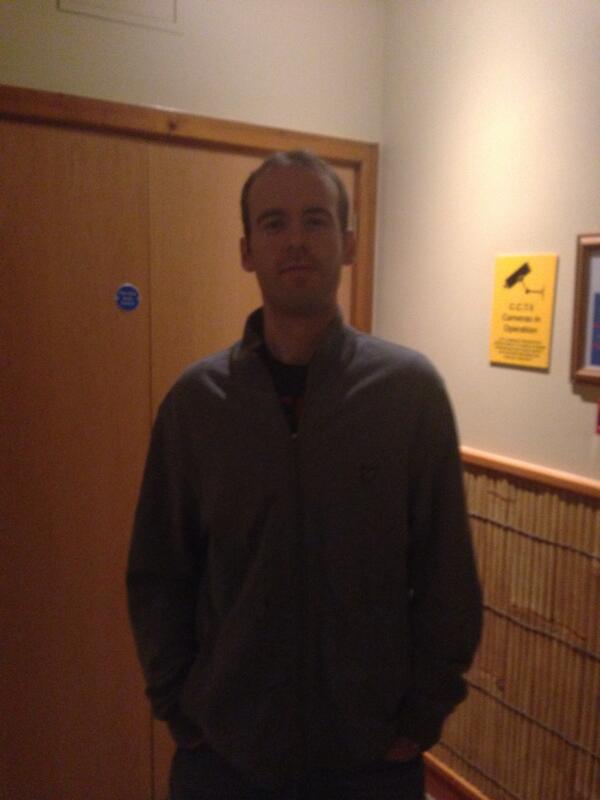 Oliver Oxland quoted on Twitter to say he would destroy Lazarus at 3 sports - http://audioboo.fm/boos/1628739-oxland-interview-global-first
The sporting day was rounded off with ten-pin bowling, where Alex showed that he was as good a bowler as he was a badminton player (5 x strikes in a row!), and Hannah showed that there was indeed a sport that she wasn't very good at. This prompted a tipsy Kevin Neville to shout across the curry table at our meal later that evening "Hannah, you are rubbish (or words to that effect) at bowling!" whilst Piers decided to throw his first mouthful of curry down his shirt in shock. Even the walk back to the villa was eventful with Ed Harvey coerced by Piers and Hannah to show them his speed-walking talents, which I must confess was rather impressive, if somewhat surreal.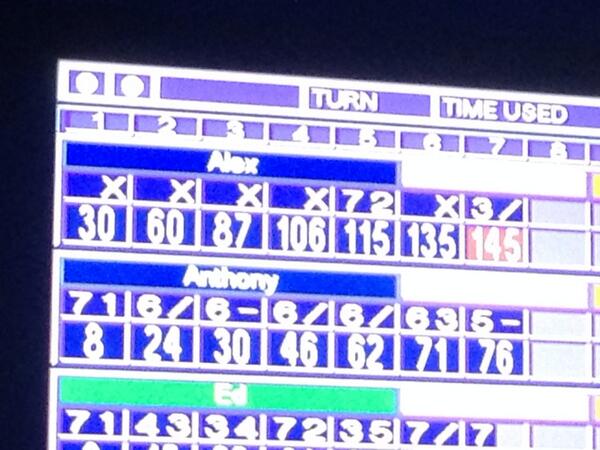 Alex Du Noyer - bowling genius - interview - http://audioboo.fm/boos/1627987-alex-du-noyer-interview-at-center-parcs
Sunday was another test of endurance for all with an excellent Davis cup themed friendly Racketlon tournament organised by Keith and Dave Lazarus. Piers was paired with 'potty-mouthed' Kevin Neville and they had to play the pairing of Rob (Dark Horse) Sampson and Anthony Barbier, whilst Hannah was part of the all-girl glamour team with Naomi Bowman versus the rather less glamorous but far more distinguished Richard Lawrence with his young partner Ross Wilson. Richard believed this to be the greatest age differential between Racketlon partners ever so was yet another first for the camp. A highlight of this tournament for most though was the opportunity to play proper squash doubles; the only surprise being the fact that the services of the centre's first aiders weren't required! There were some close matches across all pairings with the singles and doubles format working really well and it was a shame when the event finished and some of the camp had to leave ahead of work on the Monday.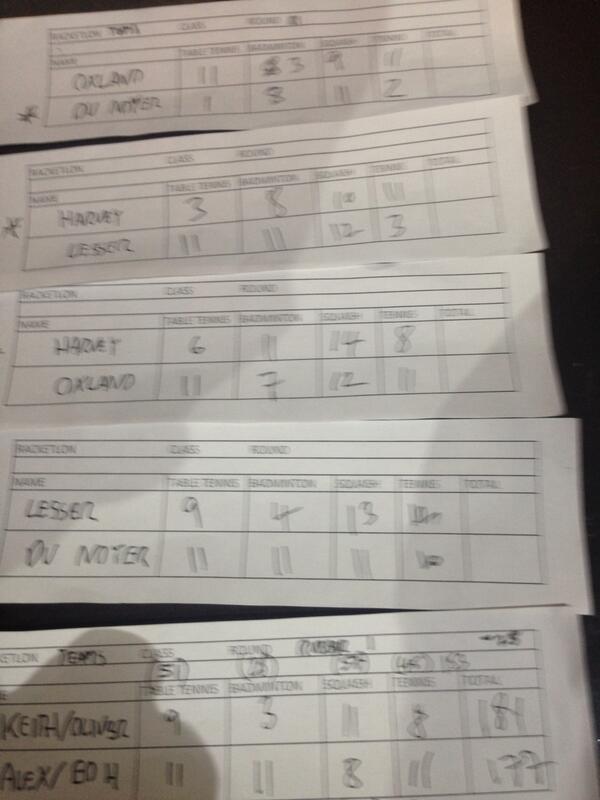 David Cup Racketlon - Du Noyer/Harvey v Lesser/Oxland was on course for a gumi arm until Oxland made 3 points in badminton at 3-8
We stayed on however, along with Richard and Alex, and Piers' day was made when he managed to beat (all-rounder) Alex in a game of American pool (I said I wouldn't mention the in-off the black!), which coupled with him taking a set of badminton against Alex on the Saturday too, made his entire weekend.  Alex had to leave the following morning for his train back to Lancashire, however Richard decided to stay on with us on the Monday morning for an impromptu session of table tennis. My own weekend was made when Hannah and I managed to beat Piers and Richard in a best of 3 sets doubles match. I think that was too much for Richard to take and he decided to go for a swim before leaving. Piers and Hannah wanted to squeeze as much from the weekend as possible though so continued their battles on the badminton court before we too spent our last hours in the water park, which was fantastic.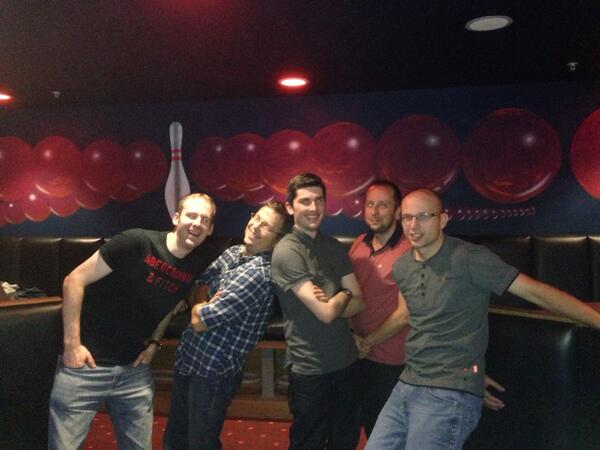 Oxland, Neville, Du Noyer, Walton & Sampson enjoying the bowling activity
Overall the weekend was a great success, if extremely tiring for both, and we thoroughly enjoyed ourselves and can't wait to go back again. The company was excellent; the sport was exciting and competitive; the food was good; the non-sporting entertainment was lively (Richard showed them how to play the card game cheat, which went down very well) and the accommodation was ideal for what we needed despite the little time we actually spent in it. Hannah left a picture on the blackboard in the villa with the words 'I love Racketlon' and on walking back to the car Piers overheard 2 cleaners discussing it, with one asking the other 'So what's this Racketlon then?' – that's 2 more potential converts for the next training camp!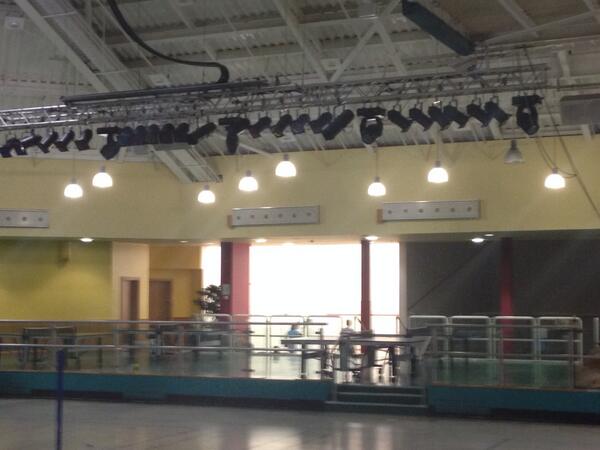 They think it's all over.....it is now. Until next year.....