Inter Counties 2013 - Podium - Results - Report - Photos
Congratulations to the following winners and the other trophy awardees on the podium:
| | |
| --- | --- |
|   | Inter Counties 2013 |
| 1st | Middlesex |
| 2nd | Kent |
| 3rd | Surrey 1st |
| 4th | Herts |
| 5th | Staffs |
| 6th | Essex |
| 7th | Surrey 2nd |
| 8th | Oxon |
Full results may be viewed at Inter County Teams 2013 Results.
(2 hours 10 minutes in they arrive at the event)
Interview starts at 2 hours 13 minutes 45 seconds....
Keith introduces us to Racketlon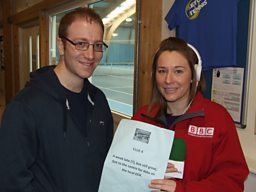 Four disciplines in one day. Racketlon tests competitors at table tennis, squash, tennis and badminton.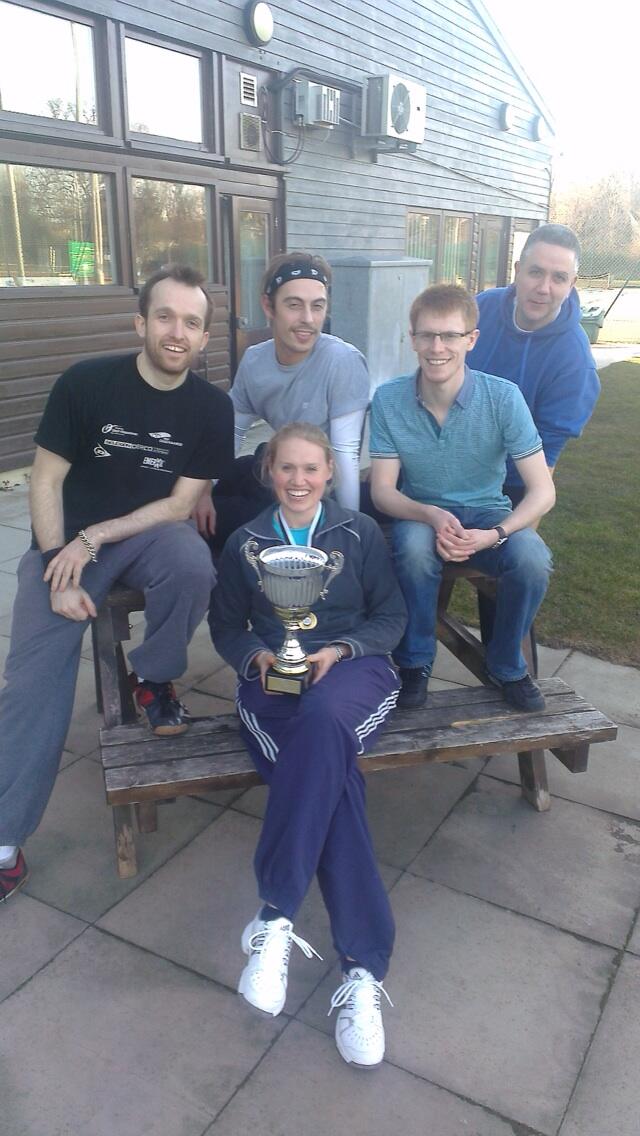 Middlesex too strong
Captain Stahl was a day late with his April fool, "I am struggling for players but just need to try a couple of guys from the squash club". 2 hours later....."it's ok I have Calum Reid and Dave Culshaw".
The writing was on the wall to start with although Ray Jordan did very well against Calum Reid and James Simpson showed his abilities against Dave Culshaw.
Surrey play a blinder
Richard Middleton was an absolute revelation sorting out 2 sides and probably on the day unlucky to be in the same group as Middlesex and otherwise probably would have made the final. Their lady Karen Beckman undefeated on the day and it would have been good to see Karen take on Barbara Capper as Karen impressively won all of her squash and badminton and just lost the odd table tennis or tennis. James Simpson had comfortable wins over Dave Culshaw and Antony Phillips and will be good to see him enter the English Championships as he is undoubtedly the strongest squash player on the tour and pretty useful at tennis also.
Match of the day
The match of the day was undoubtedly between Stoke and Aston Villa (apologies to racketlon supporting Stoke players).....typo there I mean Kent v Herts. Let's see how this played out....
Lesser returning from injury took it easy and put himself in the doubles with super vet Nigel D'Arcy. They won easily +19. Jordan and Ridout awaited in the singles and the selection didn't quite pan out as anticipated with Phillips being taken down by an inspired Ray Jordan +15. Ray impressively winning the tennis. A +4 victory including a deuce squash and tennis win for Fiona Sime over Dianne Baker meant it all came down to debutant Paul Monk. The match was beautifully poised and clearly Ridout hadn't read the script after a nightmare squash set pulling himself together for the tennis and carving out an 11-9 victory. It was pulsating, there were goosebumps on the chairs, Ray Jordan's screams of joy were heard in Letchworth town centre. The local side were slaughtered and somehow recovered for a win against Staffs. Surely not yet able to fully take in this epic battle. At least BBC 3 Counties Radio turned up the following morning to see what all the fuss was about.
Champions League qualification for Kent and Middlesex
Hopefully both teams will therefore represent the UK in the Alternate Open & Champions League competition later this year.
Great day, good team spirit and organisation
Enjoyable day for all. It really felt like the atmosphere was friendly and teams played as teams. Next year our vision is to expand to 16 teams and move the event to Redbridge Sports Centre. Start organising your county teams now, this is going to be epic!
Like this article? Want to see more like it?
The English Racketlon Association are on Twitter..! Help us reach 300 followers by the end of April.
Kent Racketlon Team (below)
Left to right - Ray Jordan (captain), Dave Ridout, Fiona Sime, Karl Nash and Adam Milton (2nd Place)
Middlesex Racketlon Team (above)
Left to right - Duncan Stahl (captain), Laurel Bennett, Dave Culshaw, Calum Reid, Richard Boreham