Herts Open 2013 - Podium - Results - Report - Photos
Congratulations to the following winners and the other trophy awardees on the podium:
| | | | |
| --- | --- | --- | --- |
|   | 1st | 2nd | 3rd |
| MSA | Duncan Stahl | Stuart Hobden | Oliver Oxland |
| MSB | Jens Weigel | Ed Harvey | Alex du Noyer |
| MSC | Leon Griffiths | Mark Stockley | Steve Farkas |
| MS16 | Nick West | Oscar Gordon-Reid | Arif Wadud |
| MS45 | Steve Kneller | Duncan Marlow | Andy Griffiths |
| MS55 | Nigel D'Arcy | Richard Lawrence | David Sutlieff |
| LSA | Barbara Capper | Fiona Sime | Dianne Baker |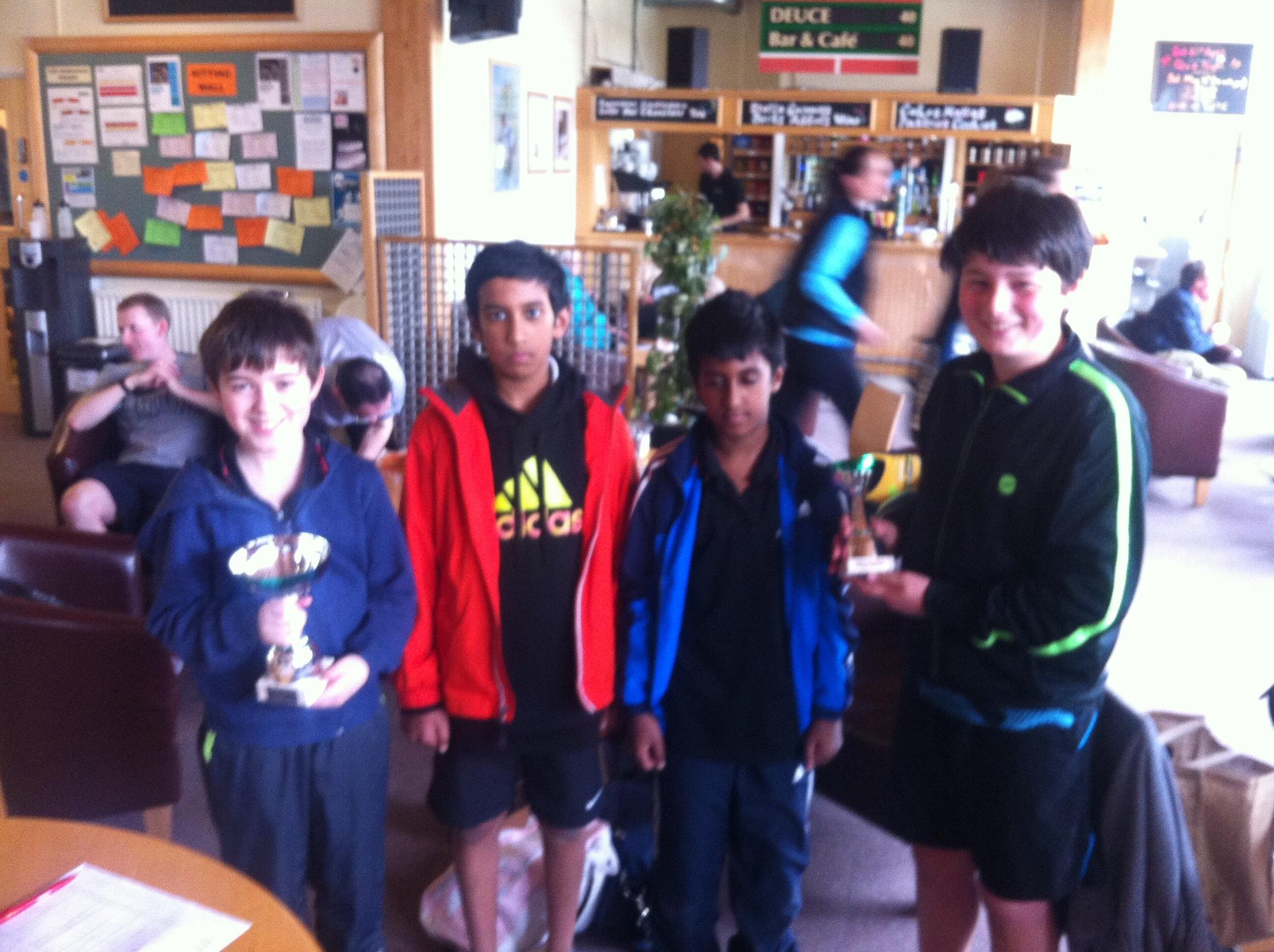 Full results may be viewed at Herts Open 2013 Results.
Stahl takes another title
2012's most improved player got his first ever win against stalwart Stuart Hobden who it was good to see back on the tour. Oliver Oxland got an exceptional win over Ray Jordan and Dave Ridout also upset the apple cart with a win over tour regular Keith "ankle" Lesser. His ankle not troubling throughout and back to fitness we are glad to see. Debutant Paul Monk had a good tournament narrowly losing out to Dave on the sat in the counties and not winning on the Sun against either Stu or Keith, good potential for the future though with squash and table tennis improvement. Oliver claimed a famous victory for 3rd place over Mr Ridout, who apparently is trending on twitter. Duncan took the £50 prize money and now looks forward to the English champs which he is organising.
Capper wins again
Barbara Capper a double world championships medalist (gold in Ladies B and silver in O45's) cemented her place as part of the England squad for this July's world team championships in Holland. With a great win in the final against Fiona Sime, who justified her seeding making the final relatively unscathed. Diane Baker picked up a very credible 3rd place. Well done to Laurel Bennett on bringing along a large group. Capper took the £35 prize. We are starting small with prize money and hope to increase this in the future with sponsorship. What a great tournament after all with 50 players and no less than 10 Ladies, a great turnout.
Kneller continues his winning streak
The Uk tour's answer to Ramy Ashour continued to defy the odds and take out all in his path. Will he lose eventually? Will he like Ramy stay unbeaten for even longer? Only time will tell....Duncan Marlow, always a pleasure, gave a good effort to get to the final and looks forward to his 55th year in 2014 and joining inevitably the O55's gold medal winning team. Good to see a debut from Job Ben (Radlett Squash & Tennis club). Derek Thorpe from Radlett squash ran a 3 sport open day 2 years ago and used racketlon to structure the day. Antony Phillips won the event and it introduced a number of people to the sport. Hopefully Jon can now take this positive experience back to Radlett. Andy Griffiths clearly got so caught up in the enthusiasm of it all, he actually forgot about the time pressures of the day and especially in the tennis (rules state 3 minute knocking up and certainly no lengthy, friendly conversations before knocking up!). A competitive but compact O45's draw saw some good performances and Boreham in 4th will hope to improve next time. At the end of the day players seemed surprised the officials were timing the knock up as this had never been done before. Shouts of "everyone takes longer than 3 minutes" were shown to be futile as Richard Boreham and Andy Griffiths (now making up for his earlier misdemeanours) took a mere 2 minutes, well done lads! This compared to Stahl v Hobden (Stahl needed 3 points), 5.5 minutes* and Oxland v Ridout (4.5 minutes*), tut, tut lads*. Stahl* especially showing a complete disregard for the tournament finishing on time as Hobden was ready to go straight in *These are not serious complaints and simply a point on a rule which is not currently enforced properly and to generate thought and debate.
Nigel D'Arcy formidable in the O55's
Certainly a tale of two emotions here as certain O55's like Lawrence and Sutlieff who also qualify for the O60's are no doubt, very competent players but are shouting from the rooftops "no more Nigel, no more", although both Lawrence and Sutlieff performed well over the weekend, one has to ask how many times they wish to face the O55 man of the moment. Nigel on the other hand would very much like to take on the likes of Antony Phillips, Richard Whitehouse, Kevin Neville and Bob Parker but where were they? England has many riches in this category and the smart punters are betting on a gold medal in Holland in July. D'Arcy will of course get his wish and take on at least Neville in next month's English Championships.
Can West challenge Griffiths?
Young Nick West showed excellent racketlon ability and punters are already contacting the bookies to place bets on West as the next "big star". 13 year Griffiths undertook an excellent day of anti-marketing beating no less than 3 adults. Leon is a world champion and he showed why, mixing in with the adults not only showing ability but an excellent attitude. Stockley and Farkas additionally did their racketlon CV's no harm.
Weigel wins B competition
The FIR President's namesake could not be more different to our friend and colleague Marcel Weigl. Jens, a tall, dark, handsome young man who is both German and very smiley. Weigl, a more serious fellow, but doing wonders for the sport internationally with his ruggish charm. Jens followed up his Easter racketlon win over Ollie Close (+1) with a storming final victory over the improving Ed Harvey. Alex Du Noyer took 3rd place over Fabien Mauroy. Fabien, one of the most charismatic and much loved characters on the tour entertained the crowd with his dogged determination and strategising. Such passion, pressure and intensity, an example to us all. Talk of retirement is surely absolute hogwash as tournaments would not be the same and much the poorer for it.
Like this article? Want to see more like it?
The English Racketlon Association are on Twitter..! Help us reach 300 followers by the end of April.
Kent Racketlon Team (above)
Left to right - Ray Jordan (captain), Dave Ridout, Fiona Sime, Karl Nash and Adam Milton (2nd Place)
Middlesex Racketlon Team (below)
Left to right - Duncan Stahl (captain), Laurel Bennett, Dave Culshaw, Calum Reid, Richard Boreham