Kubanova Storms to Her Second World Title
The Czech Republic's Zuzana Kubanova produced a dominant display to regain the Women's Elite she last won in 2011.  In her first final, Bettina Bugl was not able to stay with her more experienced opponent, but the (literally just) 18 year old will remain a force to be reckoned with.
Bugl started the brighter of the two players racing into an early lead on the table tennis reaching 11-4 at the changeover.  However, the experienced Czech kept her cool and applying pressure she forced her way back into the table tennis. Bugl though showed tremendous spirit and bounced back from this resurgence, the young Austrian displaying a cool head to regain the lead with deep yet resolute defence and piercing attacks, closing out for a 21-19 win.  However, from 11-4, she had to be disappointed with the way it finished up.
The badminton saw a cagey start, both players looking for the initiative, with a number of unforced errors the score was 4-4.  However, Zuzana was able to find her feet quicker and opened up a 9-4 lead, however a rallying effort from Bugl saw Zuzana take the lead at the change of ends 11-7.  The Czech player however really asserted her dominance in the second half of the badminton, racing to a 21-10 victory applying tremendous pressure to her young opponent.  Credit however to Bugl who fought with huge courage and never let her opponent get an easy point.  However, how much had this taken out of her?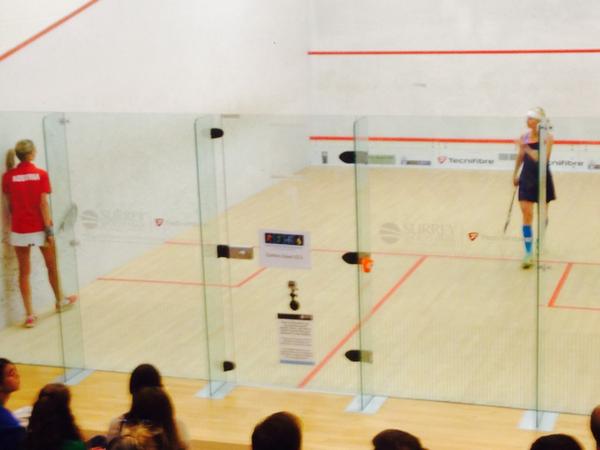 The squash was to settle the 2014 World Title, Kubanova racing out to an 11-0 lead utilising her squash experience to find probing depth on her lengths and width on her crosscourt shots.  Moving Bugl from side to side never letting her settle on her feet before exercising great guile at the front of the court.  The rampant Czech continued before Bugl grabbed a late point to the joy of the crowd and to her credit, her own wry smile.  Kubanova closed the squash out 21-1, regaining the World Title.
The squash was the telling difference between both players, but Bugl can be pleased with her performance.  Christina Seehofer saw off Lillian Druve 21-12, 21-19, 21-7, Austria taking 2nd and 3rd on the Elite podium.  A real plus for both Austrian girls is that they took 1st and 2nd in the Under 21's, Seehofer edging out Bugl for that title, indicating that these two Austrians will be a force to be reckoned with in the years to come.
But, the day belongs to Zuzana Kubanova, the 2014 Women's Racketlon World Champion, congratulations.