Article reproduced from: http://www.racketlon.com/newbritrep.html
Date: 2003-04-16
_________________


As the first British Racketlon Open were held in London last weekend, for the first time in the history of racketlon, there was a non-Scandinavian finalist in an international tournament. John O'Donnell, a 35-year-old english former squash professional took on the visiting force of eleven players of the Scandinavian racketlon establishment (ten Swedes and one Finn, comprising the second wave of a viking invasion that was initiated at English Open last October) and made it all the way to the final where experienced Swedish racketlete Rickard Persson was waiting. Persson won the title by a margin of +9 points (21-6, 7-21, 18-21, 21-10).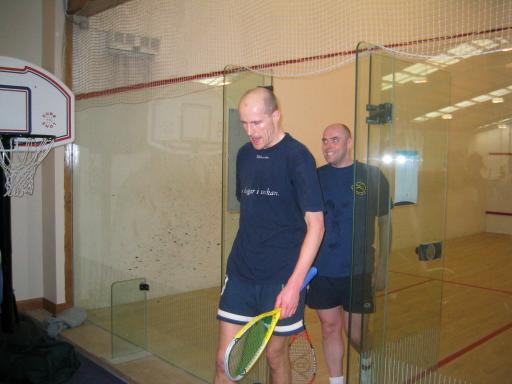 The final. Persson and O'Donnell. O'Donnell still happy after squash.

The British Open result meant for O'Donnell a leap from 28 to 14 on the Racketlon World ranking (updated list out today) which means that he moved ahead of Scotland's Steve Thomson to the position as the best ranked racketlon player in the UK. If one considers that he played his first racketlon tournament only a few months ago (Swedish Open in Stockholm in January) it seems likely that O'Donnell could become a serious contender for the World Championship title this year already. All the more so if one takes into account two remarkable developments on O'Donnell's path to the final;

First, in the second round against French World #11 Nicolas Sene; Not many would have placed their bets on O'Donnell after the first three sets. He was admittedly in the lead by 9 points after having won both table tennis and squash convincingly (former badminton French national team player Sene was expectedly out of reach in badminton) but given that tennis is his weakest link while Sene is a good quality player it did not look good. As expected Sene took a firm grip of the tennis set and advanced rapidly to a 15-6 lead. But then O'Donnell suddenly started to win points. The audience would not believe their eyes as long "soft" rallies that sometimes contained up to 40 hits over the net, most of them sliced with safe squash technique (particularily on behalf of O'Donnell) slowly gave him the advantage.

Second, in the semifinal against Marcel Weigl (Austria); Although most people expected O'Donnell to win the initial table tennis set fairly easily Weigl got on to a good start taking the lead by 9-15. Then, in a recovery of an extent possibly never before seen in the history of racketlon O'Donnell took 12(!) straight points thereby winning the set with 21-15. That paved the ground for an O'Donnell victory by +24 points (21-15, 21-5, 21-18!) a margin that would probably have been much smaller if tennis specialist Weigl had only got the opportunity to play the last set.

So, it seems obvious that O'Donnell already is in possession of some of the psychological/tactical qualities widely known to play such an important role in the game of racketlon; The ability to play well against someone who is much superior/inferior than yourself and the ability to focus on the fact that every point counts from start. A girlfriend at ringside committed to taking up statistics on winning/loosing shots adds further clarity to the picture. There is no doubt about the purpose in mind of this Englishman.


Tournament of Surprises

O'Donnell was not the only player that did better than expected in this event. British Open could quite adequately, in fact, be labeled a "tournament of surprises". In the Men's Open class only one of the top 4 seeds made it to the semifinal(!) which was also the case in the Men's Amateur class.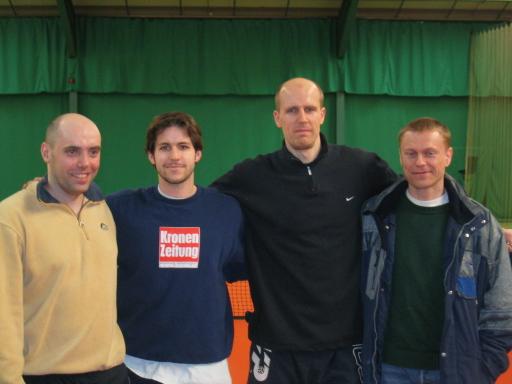 The semifnalists. John O'Donnell, Marcel Weigl, Rickard Persson and Magnus Eliasson.
The #1 seed, Sweden's charismatic World #1 Magnus Eliasson lost in the semifinal to Rickard Persson after having had to stop the match when he suffered an unfortunate foot injury at a point when the match still looked remarkably undecided (9-21, 21-7, 11-10 injury!; Eliasson's score first). The #3 seed Nicolas Sene (France) and #6 seed Joakim Sandberg (Sweden) both lost to O'Donnell. The #4 seed Stefan Larsson (Sweden) lost to the winner Rickard Persson and the #2 seed Ola Carleke (Sweden) lost to Marcel Weigl, which was probably the biggest surprise of them all. Weigl, who was the only Austrian in British Open, had only taken part in one international event before this - Swedish Open in January - where he lost in the first round of the Class 1 event. Therefore, it must have come as something of a shock to Ola Carleke, world ranked #8 and a World Championship semifinalist in Gothenburg last year, to live through a match where he lost everything but squash - in table tennis by as much as 8-21.

Finally, of course, the winner himself, Rickard Persson, was a great surprise. Persson, a journalist and former elite table tennis player from Örebro in Sweden was only seeded #5 but turned out to be the only one that could properly defend Swedish racketlon domination this time. This victory improved his world ranking from 14 to 8.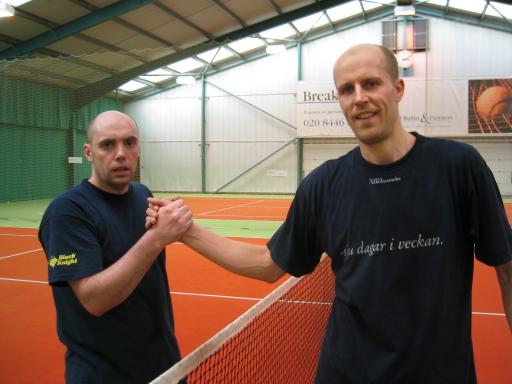 The winner of British Open 2003. World #8 Rickard Persson.

Racketlon is spreading

British Open was a great success in many respects. Facilities at the David Lloyd sport center in Watford/Bushey were excellent, tournament management was smooth and the marketing preceeding the event was quite successful as shown by the attendance rate of 55 players making it the biggest international racketlon event outside Scandinavia sofar. But in one respect the tournament really excelled; by the number of nationalities taking part. They were no less than 10! Beside England and Sweden there were players from Finland, France, Austria and Scotland. In addition, there were four nations never before seen in a racketlon match; Belgium, South Africa, Portugal and Nigeria(!) - marking, also, the advent of the first non-European racketlon players. A more international racketlon event has indeed never been played before! Not even the World Championships last November attracted more than 8 nations.

The organizer, Stuart Foster.

Of particular interest were the two Belgian participants, Luc Van Bogaert and Gert Peersman. They could inform about a Belgian multi-racket tradition sofar unknown to the Racketlon community. A tournament called "King of Rackets" involving the same four sports as racketlon has apparently been arranged every year since 1993 nowadays attracting no less than around 140 people. The format is quite close to racketlon in the sense that it involves straight counting where every point counts but it does not, however, contain true racketlon matches where the same two people face each other in all four sports. Instead, the event starts out with play in small groups of some 4 people where everybody plays everybody in each sport in best of three games. (Straight counting. The first two games are played to 11. If a third game is needed it is played to 7.) All points gathered in the group play are then summed up for each player. The players that have gained the most points continue to the play-off, the others are knocked out. The play-off consists of four separate traditional knock-out tournaments, one for each of the four sports. All players that have qualified for the play-off take part in all four tournaments. When all tournaments have been played all points from them are summed up. The total winner of the event, i.e. the King of Rackets, is the player with most points.

The next King of Rackets tournament is only a few weeks away. It is due to take place on the two first weekends of next month (1, 2, 4 and 10 May). See the invitation (flamish only) on www.recrean.be/html/anderen/Kingofrackets.html ( See also an account of the history of the king of rackets tournament on www.recrean.be/html/Activiteiten/Voorbije/Kingofrackets.html )

Luc Van Bogaert, with a solid background in table tennis, won the King of Rackets tournament in both 1997 and 1999. Therefore, his second round encounter with World Champion Magnus Eliasson came close of being a match between the Swedish and Belgian number ones. Eliasson started out by loosing the table tennis game quite heavily and Belgian hopes were still high as the initial squash points were quite tight. But, in a manner not unusual for Eliasson, he had soon squeezed much of the energy out of his opponent and after squash he could move forward to a convincing victory by +25 points - a margin small enough, however, to indicate that Van Bogaert cannot be that far behind many of the other top international racketlon players. World Champion Eliasson is, after all, almost an exception.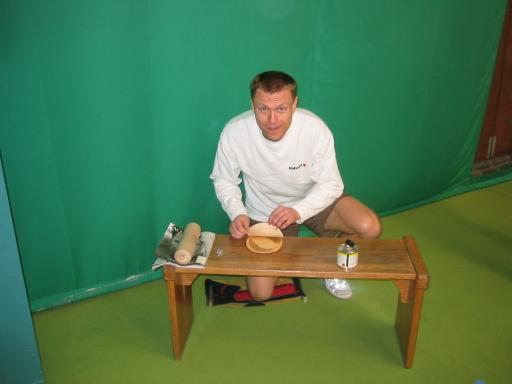 World Champion Eliasson applying fresh glue on his table tennis bat.


Racketlon @ David Lloyd's

Another indication of the fact that the game of racketlon is spreading to an ever wider audience was the visit to the tournament paid by Stewart Miller, the Managing Director of David Lloyd Leisure, the UK's market leader in health and fitness clubs with over 40 sport centers - out of which 38 are potential racketlon centers - scattered all over England. Miller has very quickly understood that if racketlon gets popular in England it would have a direct impact on demand for the David Lloyd's products and action seems not far away. The intention is to introduce the game of racketlon to the English youth by staging open house testing sessions. This is really promising news to racketlon. If it gets a foothold within the David Lloyd organization it could really break through in England, given also the fact that squash is bigger there than probably anywhere else.


The Tour Continues

British Open was the second event of eight on the IRF Racketlon World Tour. The next tournament will be held in Lahti, Finland, 17-18 May. Then tournaments in Bulgaria, Scotland, Austria and England (again) will follow until the tour finally peaks with the World Championships in Gothenburg the first weekend of November. Look under EVENTS on the www.racketlon.com startpage for more information on how to apply for each of these events.

Racketlon enthusiasts that would like to stage an event on the tour during 2004 - or even the World Championships - should indicate their interest by an e-mail to the IRF ( This email address is being protected from spambots. You need JavaScript enabled to view it. ) before this year's World Championships. The tour calendar will be planned during November and fixed by the first of December.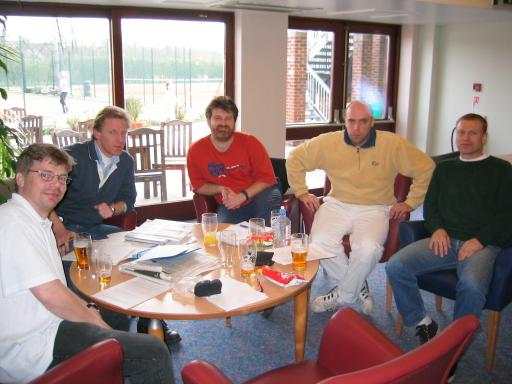 Some of the members of the IRF Council drafting the future of the game of Racketlon.