This article is reproduced from: http://www.racketlon.com/newfrenchbreak.html
Date: 2002-10-15
_________________
The international racketlon community got bigger, richer and more interesting when Racket Sports UK English Racketlon Open was played in London last weekend (5-6. October). Most notably Frenchman and racketlon beginner(!) Nicolas Sene did well enough to go straight in on position #10 on the World ranking (new list out today). This makes him the first non-Scandinavian racketlon player to enter the World Top 10.
Sene, 35, is a former top national badminton player that now plays more squash. On the French badminton ranking he peaked at #5 and presently holds the number 20 postion. In squash, however, he is on his way up from around #60 last year to #45 at present. His tennis, also, proved to be good standard, almost at level with most of the world's best racketlon players. In addition, there is plenty of room for improvement in his table tennis performance as shown by his 0-21 defeat against world #6 Mats Källberg. (Figures like that are admittedly not unusual when Elite table tennis player Källberg swings a bat, so perhaps 1-21 against Roland Helle is a better measure).
Sene qualified for the main tournament after beating Swedish #6 Joakim Sandberg in his first ever(!) racketlon match. Considering the fact that Sandberg (like many of the other top ranked players) has played racketlon for ten years or more, this must be a pretty hard nut to swallow. Sene continued with a clear victory (+33) against English entrant Gary Zuconni in the quarter final but then had to face one of the really big ones in the semi-final. He got knocked out against Sweden's World #3 Helle with a total difference of -15 points (1-21, 21-11, 21-15, 7-18!). A closer game in the match for 3rd prize against Sweden's World #6, Källberg (-8; 0-21, 21-17, 21-15, 10-11) made Sene land as tournament number 4. (Rumour has it that Källberg would not like to play Sene any time soon given his profile of almost non-existing table tennis, very good squash, extremely good badminton and decent tennis - a profile that looks almost designed to defeat table tennis expert Källberg.)
All this point in one single direction. Nicolas Sene is a name to remember when it comes to Gothenburg Racketlon World Open in the beginning of November (recently recognized by the International Racketlon Federation as the official Racketlon World Championships, year 2002). Any experienced racketlon player knows that it takes time to get into the psychology of racketlon where every point counts equal irrespective of whether you feel superior or inferior in the discipline at hand. Since this was Sene's first racketlon tournament he will probably improve just by thinking about racketlon during the three weeks remaining until World Open.
Lazarus
Another name to look out for is David Lazarus. Yes, it is the same Lazarus as seen in the headline "Lazarus battles Viking Invaders" that occured in English media during the media hype preceding English Open. (Racketlon still captures the attention of www.squashplayer.co.uk , one of the most visited squash sites on the Internet.) Although his battle against the vinkings were only moderately successful this time he is clearly England's #1 racketlon player at present. He has represented Essex in tennis, squash and table tennis; and is now said to be taking serious badminton lessons to catch up on his only real weakness.
Similarily to Sene, Lazarus beat Sandberg (+2; 21-14, 21-8, 6-21, 18-21) in his first ever racketlon tournament and then lost to Källberg in the quarter final (-8; 2-21, 21-10, 11-21, 21-11). His battle against the Swedes went on in the plate, where he achieved an impressively tight game (-5) against Sweden's rapidly advancing #4 Stefan Adamsson. The game was not decided until 17-12 in the final tennis game. (Adamsson needed 12 to win the match).
And the battle continues... Lazarus has announced that he will join the rest of the international racketlon elite in Gothenburg. And Racketlon.com predicts that this time there will be real casualties. Vikings should be prepared to take a step down on the World Ranking as Lazarus enters the World Top 10.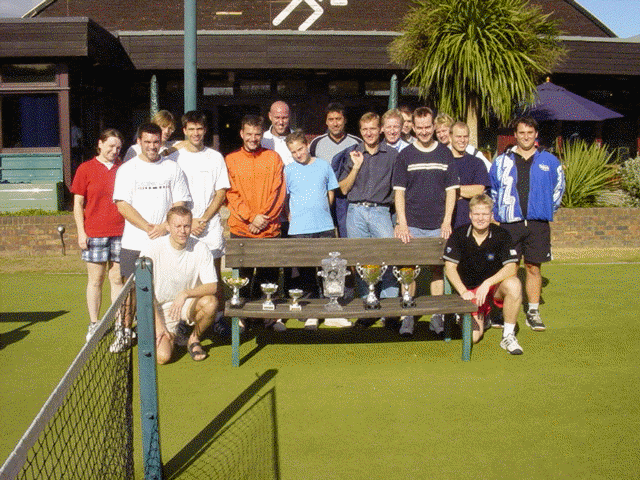 English Open competitors (Lazarus #6 standing from the left (tall, bald))
The Winner
But a hard nut to crack will be Sweden's charismatic number 1, Magnus Eliasson. Not unexpectedly he came out the winner of English Open after a convincing final victory against Helle (+22; 21-11, 21-19, 21-11!) These numbers, as well as his result against Källberg in the semifinal (+16; 8-21, 21-3, 21-17, 13-6!) seem to indicate that he has now progressed to a level separate from all other Swedish racketlon players. (Helle and Källberg are normally his prime challengers.) And he will need to be in good shape if he is going to be able to threaten World #1 Mikko Kärkkäinen in World Open... He has not really been close on any of the two occasions they have played sofar (Gothenburg last year: -6 (6-21, 21-4, 14-21, 16-17!) and Finland in May: -17 (Ba: 13-21, Tt: 12-21, Te: 9-21, Sq: 21-9)
An interesting development going on behind Eliasson, is the progress of the "young-boy" (22) of Swedish racketlon, Stefan Adamsson, who recently leapt from #7 to #4 on the Swedish ranking and continues to impress observers. His close defeat against Helle in the quarter final was one of the more dramatic individual matches of the whole tournament. Helle had a lead of +2 points before tennis and the score reached 19-19. Helle won the next point to 20-19 and raised his hand in victory - but... according to the new "difference of two" rule recently introduced Adamsson still had the chance to get equal by winning e.g. 25-23. Convinced by the audience of this matter of fact Helle pulled himself together and went back to serve. And won. +4 (19-21, 21-9, 13-21, 21-19). Adamsson is getting closer...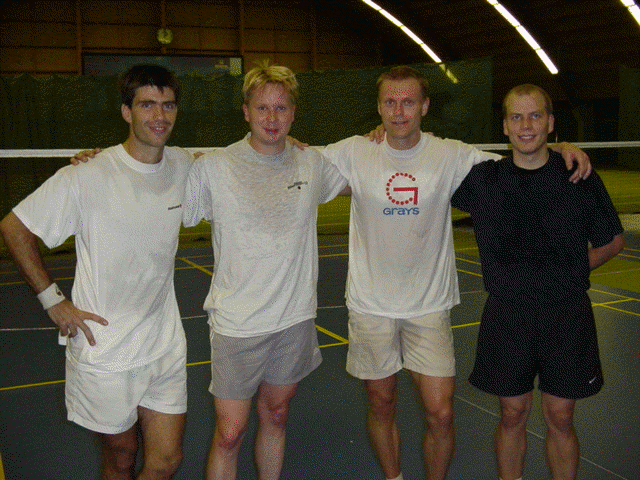 The semifinalists in English Open: Nicolas Sene (World #10), Roland Helle (#3), Magnus Eliasson (#2), Mats Källberg (#6)
English Open
This tournament was the first ever racketlon event to take place on English soil - and the second in the UK after Scottish Open that was organized in Monifieth in mid August. It was the brainchild of former table tennis internationalist Michael Auchterlonie, who is also the founder of the recently established English Racketlon Association and the English representative in the International Racketlon Federation. A true starter, Mike has made a lot of things happen in the few months that have elapsed since he first saw that article on Gothenburg Racketlon World Open in the English Tennis Ace Magazine and English Open meant that a new chapter in the history of the internationalization of racketlon can be written. Probably for the first time, it brought together three different European streams of multi-racket tradition; the Scandinavian racketlon tradition stemming from Finland in the mid Eighties and the pioneering work of the Swedish Mr Racketlon Peter Landberg, the German Mehrschläger-Turnier tradition and a French tradition of Championat de Quatre Racquettes.
The French multi-racket tournaments was surprising news to most people present. Sene could inform that he had been taking part in such an event 12 years ago. The format had several similarities with racketlon; Same four racket sports. Best of three games to 21 played in each sport. The winner was the player who won most of the individual sports. Then games were counted. The tournament was played during three consecutive years, then seased. Now, there are plans for a Racketlon French Open in Paris.
English Open was also distinguished by the high standard of the players taking part. No less than five of the present World Top Ten were there. And given the fact that racketlon has been going on now for over a decade in Scandinavia, this means that the event gathered some pretty good racket players even in terms of the standard in the individual sports. The quality of the best players even took the chief organizer himself by surprise as illustrated by the following words said directly after his match against World #2 Eliasson: "He stuffed me! It's an eye opener!" Keep on training, Mike. You will get there!
Most players seemed to agree that racketlon might face a very bright future in the UK. The two most important preconditions are there; suitable sport centers and a large quantity of squash players. The David Lloyd Sport Centers, of which there are no less than 43 in England, are almost as if they were built for racketlon. There are even particular "Rackets Managers" in each center. As soon as David Lloyd managers start to understand what racketlon could mean for court coverage and customer satisfaction these Rackets Managers might turn into Racketlon Managers, local racketlon tournaments will be arranged and the best representatives of each David Lloyd center will gather at prestigeous annual central events of high media visibility. The other criterion is also well fulfilled; The UK probably has more active squash players than any other country in the world! (Squash is otherwise known to be racketlon's weakest link since it is by far the smallest of the four. Without squash players or squash courts there can be no racketlon.)
Out of all countries in Europe, the UK is probably the one where racketlon is most likely to really take off.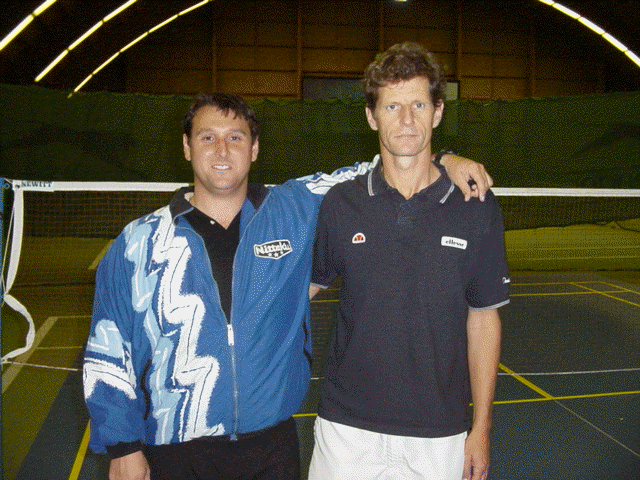 The organizers of English Open. Michael Auchterlonie and Chris, the racketlon manager of David Lloyd's, Heston
Vikings
As European history has shown for centuries the travels of true Vikings in foreign countries are associated with events of extraordinary and often violent nature. This Viking Invasion was no exception. Here are but a few examples to make that point clear:
One Viking was charged by the police after having broken through an emergency door and crossed an airfield in pursuit of a flight to London that he was going to miss. He reached half way up the stairs to the aeroplane but was then firmly rejected. On his way back from London the same viking managed to miss yet another flight, was forced to spend the night in a small village close to the airport where he joined the traditional quiz in a local pub. He won the quiz and a bottle of French Louis Larose white wine.
A large group of vikings were seen in central London, late the night after the tournament was finished, looking for night clubs of familiar Swedish nature. Apparently disappointed with what London had on offer on a Sunday night after pub closure and on their way back to their B&B they returned to hope when they spotted the sign "Swedish Strip Bar" in a dark alley close to Picadilly. After having paid the £5 entrance fee they were so shocked by the true nature of the establishment and the fact that they were expected to pay another £50 to continue their visit that they fled head over heals after two minutes - to the amusement of the bar owner who made a few easy quid.
At two o'clock later the same night one Viking was trying to adjust the parking of a right-hand driven Toyota van according to the directives of an angry native in a morning gown. Apparently confused with right and left he stepped on the gas instead of the break. When that did not make the car stop he paniced and gave full gas when he meant full break and went straight into a pile of lumber. The damage made to the car was considerable.
British public should be warned that he next Viking invasion is due at the Racketlon British Open. Date not yet settled. March, 2003?
For more results from English Open, see this page.